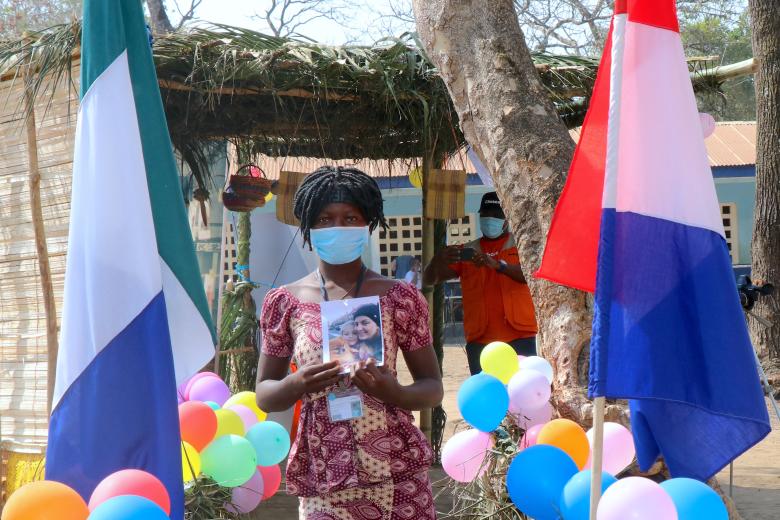 Children empowered with choice at first Chosen™ event in Sierra Leone
Thursday, February 3, 2022
Poverty steals choices from children. In Manjama, in the Soa Chiefdom of Kono District in Eastern Sierra Leone, children were given the power of choice at the inaugural World Vision (Sierra Leone and Netherlands offices) Chosen™ event.
As the sun rises on Wednesday 19th January 2022, from a distance you can see Mariama and other children with their parents under a thatch roof tent waiting patiently with smiles and high hopes. The notion that "some kids wait years to be chosen by a sponsor" resonates well with Mariam whose aspiration was dashed some four years ago when her friends we chosen by sponsors.
"Three to four years ago, World Vision took photos and details to find sponsors for us. Luck didn't favour me at the time, unlike my friends" she recalls. "The news was distressing and I wept bitterly. I was told I have to wait another year or two as the organisation continues to scout for more sponsors."
Waiting and praying to receive favourable news from World Vision became a habit for Mariama.
"I would be the first child rushing to every World Vision vehicle that enters our community, to ask, 'have you found me a sponsor?'. Today I am the happiest child at this Chosen™ event", a smiling Mariama adds, as she hugs tightly to her chest the photo of her chosen sponsors. "I want to thank God for this opportunity. I was not chosen, but now, I have chosen this lovely girl and her mom with their cute puppy as my sponsors. You can see they have beautiful smiles and I know God will bless them because I have chosen them".
For 12-year-old Mohamed, choosing a sponsor was more like choosing a new set of parents to share his life experience with. "I am more than excited because today I get to choose a new family, a very beautiful mum, and a handsome dad. I wish I can tell them everything about me right away", he says, lifting the photos of his chosen sponsors and embracing them. "I want to be a building contractor when I grow up, that is why I drew a house for them.  Many of my friends were chosen, but I have the opportunity to choose my sponsor; isn't that wonderful? Can you see their lovely smiles in this photo?"
The days, months, and years of waiting and wondering for Mariama, Mohamed, and their 33 colleagues to see whether they will be chosen by a sponsor are over. As it turns out, they're the ones who got to choose.
Manjam village witnessed the jubilation of a lifetime according to the Paramount Chief of Soa Chiefdom, Chief Foryoh. In his address, he thanked World Vision for the initiative and for allowing his people to be the first to participate in what he called a never-to-be-forgotten experience for the children of Soa Chiefdom in Kono District. 
Sagane Thiaw, National Director for World Vision in Sierra Leone, considers the event to have been a dream come true for children in the area. He applauds the community people for supporting the event.
"History will record that the very first World Vision Chosen™ event in Sierra Leone, has been held here in Manjam community in Soa Chiefdom", he remarked at the event. "This is something that we are proud of. I believe that the paramount chief, the section chiefs the parents all the children, and colleagues are very proud. I pray that this event will create room for many more of such events in the future".  
With the smiles of a fulfilled leader, Sagane also thanked the people and staff of World Vision's Netherlands Office for making the event a reality for children who have waited for years to be chosen. He lavished praises as well on Henri Richard Coly and Michael Amegbe who came to support the World Vision team in Sierra Leone to put together the very colourful and successful event. Singing and dancing by grateful parents, children and staff climaxed the event.
With the Chosen™ initiative, World Vision believes that children getting to choose their sponsors doesn't just change a child's life—it can change their sponsor's too. The simple statement "I choose you" can be a powerful reflection of God's love that has far-reaching effects on both sides. The Chosen™ movement acknowledges that God chooses to love each of us ... and that we can all live into our purpose when children are empowered to create lasting change.