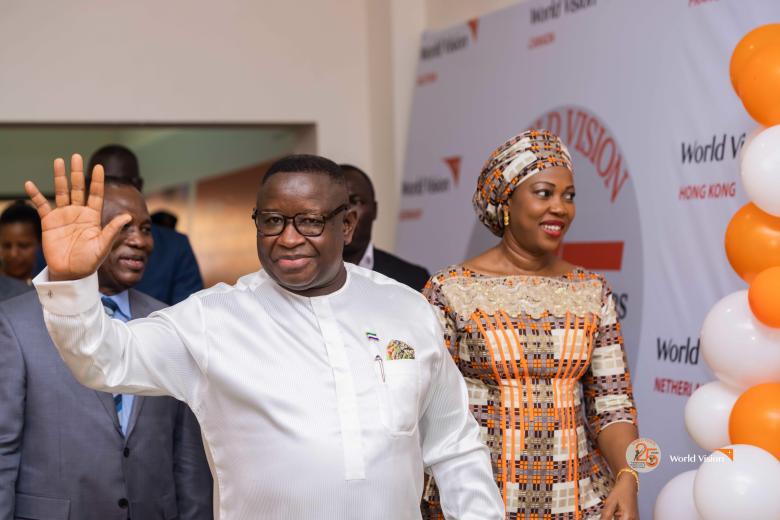 The President of the Republic of Sierra Leone lauds World Vision for 25 years of operations in Sierra Leone.  
Wednesday, June 22, 2022
World Vision partnership is committed with a promise to ensure life in all its fullness for the most vulnerable boys and girls. In Sierra Leone, World Vision is celebrating 25 years of transforming the lives of children.
Speaking at the official launch of the 25th Anniversary Celebration His Excellency the President of the Republic of Sierra Leone, Retired Brigadier Dr. Julius Maada Bio, expressed joy in joining the celebration of an organization he holds in high esteem. "Late President Nelson Mandela once said overcoming poverty is not a gesture of charity, it is an act of justice, it is the protection of fundamental human rights, the rights to dignity and decent life".
The President adds that World Vision continues to leave an indelible mark on humanity by helping the most vulnerable children overcome poverty and experience the fullness of life, bringing joy, hope and justice to all children.
"Today we celebrate 25 years of World Vision's outstanding work and impact in Sierra Leone. It is a great pleasure that I am gifted with this opportunity ladies and gentlemen on my birthday to be here with the World Vision family to celebrate 25 years of partnership to improve the wellbeing of our children.  I join the World Vision family today with deep gratitude and great pleasure to celebrate 25 years of your work in transforming lives in our nation.
At the worst of times during the war years, you stood with us. For 25 years, you have worked with us. Today, we celebrate 25 years of your great work and impact; we celebrate 25 years of working with an organisation that feels, knows, and believes that the future is bright if we invest in and protect our children today", President Bio concludes.
In her remarks, Regional Leader for West Africa, Carla Denizard, expressed delight at the cooperation and appreciation of the government and people of Sierra Leone and thanked them for their support.
"On behalf of the Regional Office I want to extend my sincere and heartfelt appreciation to the government of Sierra Leone our host, and I can honestly say that the relationship between the government and World Vision Sierra Leone is the strongest I have seen in the region."
She notes that strong commitment and collaboration are the drivers of change in any community. She applauded the national office team for what she described as great work done over the past 25 years.  
In his welcome address at the New Brookfield Hotel in Freetown, World Vision Sierra Leone National Director Sagan Thiaw threw light on a conversation he had with 13 years old Salamatu who was out of school for two years to take care of her sick mother who eventually passed away.
"The end of the two difficult years in the life of Salimatu coincided with the start of the World Vision programme in her community. When she came across World Vision staff, she expressed her burning desire to go back to school. She received a positive response from World Vision staff. At the end of the school year, she became the best student in her area on the National Primary School Exam. She is now in junior secondary school. When I asked her, at the end of our conversation, what she wants to do in her adulthood, in a burst of tears, she said, I want to be a lawyer."
Sagane continued that as the organization celebrates, it will look back critically at the 25 years journey and look forward to the next 25 years with hope.
"We renew our commitment to work alongside communities, partners and supporters to bring our contribution to the achievement of the Human Capital Development agenda of the Government of Sierra Leone and the Sustainable Development Goals for the sustained wellbeing of all the children of this country".
Alice Mami Farmer from Bonthe District is a proud beneficiary of World Vision's advocacy and community development work. Mami told the over 200 guests at the official launching that because World Vision worked in her community, she had the opportunity to go through formal education and she is now a proud third-year student at the Institute of Public Administration and Management, University of Sierra Leone.
She further narrated her work with World Vision as a child advocate and how she represented the country at different national and international stages to speak on behalf of children in Sierra Leone.
The United Nations Resident Coordinator in Sierra Leone, Dr. Babatunde Ahonsi, said he recognised and admired the long-term presence of World Vision and its support to the country's development trajectory, especially during its most challenging periods.
The Irish Ambassador in Sierra Leone Mrs. Claire Buckley also praises World Vision's work in the health sector, its impact on infant and maternal health as well as the use of innovative technology for patient monitoring, while the European Union Ambassador Mr. Manuel Müller, connotes that smiling and happy children are the best ambassadors and testimonies of World Vision's great work. "Let us all be inspired by the smile of children", he asserts.
Speaking on behalf of Paramount Chiefs, PC Alex Maada J.J. Kainpumu II from Bonthe District said that they were pleased to have World Vision in their chiefdoms. He said that it was from Jong in the Bonthe district that World Vision extends its operations to other chiefdoms and districts in the country, adding that the organization's advocacy work has helped to improve the well-being of the children in the various districts it operates.
Minister of Planning and Economic Development, Dr. Francis Kaikai, said World Vision had been resilient over the years by providing support to children and the people of Sierra Leone. "World Vision aligns its programmes with the government of Sierra Leone and they have done quite a lot, especially on the President's flagship initiatives of education, health and WASH programmes," he noted.
World Vision's operations began in Sierra Leone in 1996 during the height of the country's civil war, undertaking life-saving relief and humanitarian assistance and interventions including providing food and non-food items to thousands of internally displaces persons.