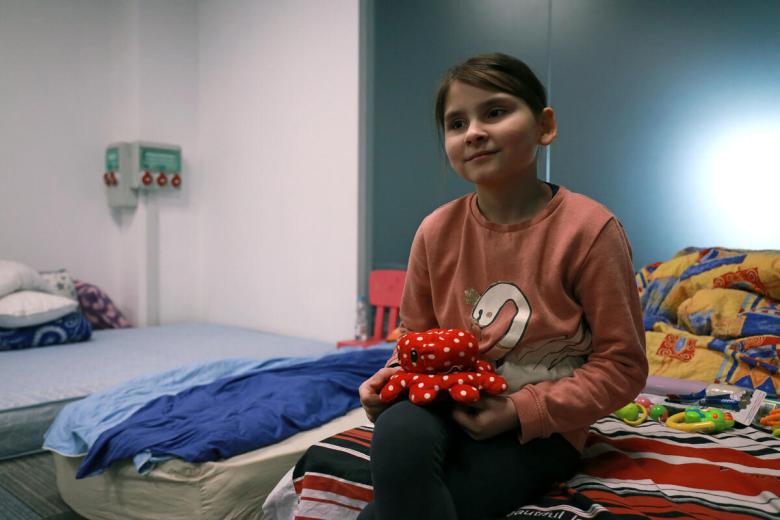 "I would just like all of this to stop," says Diana, 9
Friday, March 18, 2022
Sitting on a camp-bed, Diana smiles and cuddles her beloved, stuffed octopus . It's a gift from her mum, but it's the nine-year-old's second-most-favourite belonging.
"My favourite thing is not a thing: it's my pet cat. She is fluffy and gentle and so sweet to play with – and she loves to eat a lot!"
"She stayed in Odesa with my dad," she says.
When bombs started falling just outside their hometown, Diana's mum made the most difficult decision, sweeping up Diana, her older sister and her little nephew, travelling 330 kilometres and two countries away to safety.
"I understand that there is a war on the street. I needed to go, because God forbid should something dangerous land on our home; I wanted to leave," she explains.
Ira is Diana's mum. She says her family huddled onto a minibus, not knowing when they would return or what awaited them on the other side of the borders.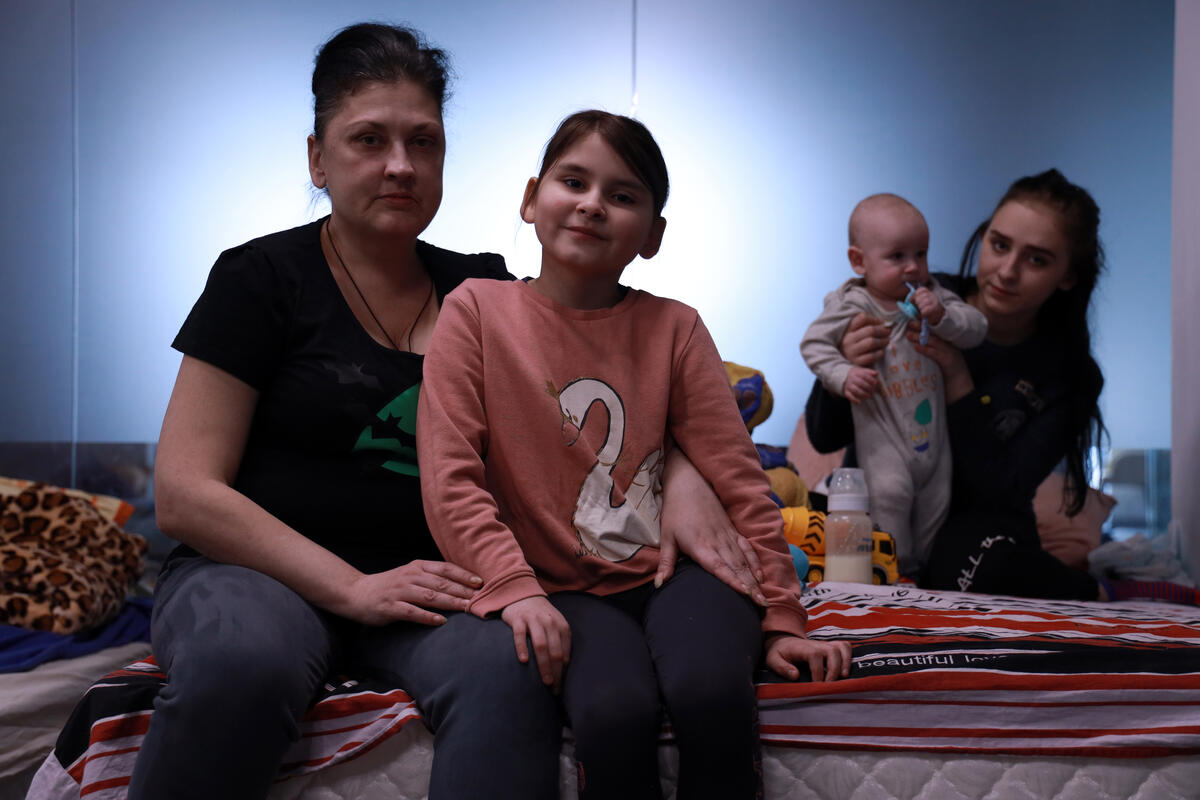 "I am so grateful to my mother," says Diana. "I would love to write her a card to show her my feelings."
Now, Diana sits with her family members in a refugee transit station in the Romanian border town of Iasi. World Vision teams in Romania are supporting this centre, which hosts up to 450 people a night and offers food, shelter and basic medical care. As the number of arrivals from Ukraine is anticipated to rise, we are working hard to coordinate with our partners in the region to look after every vulnerable child we can.
Diana says the shelter can be fun at times, with lots of kids to play with, but the family's situation is uncertain – with no school, no income and no fixed address on the horizon. As with all children in her position, there is a hint of the unknown in her expressions. Diana has no idea when she will see her dad, her beloved cat or her home again.
"I have no plans for the near future... for now I would just like all of this to stop," she says.
Conflict interrupts educations, tears apart families and throws children's futures into doubt. These risks have been compounded by the ongoing pandemic, with millions of displaced people fleeing their homes to seek shelter amid freezing cold in crowded conditions.
The UN estimates that 6.7 million people could be displaced by the Ukrainian conflict, with the overwhelming majority being women and children. In 2021, World Vision helped 30.1 million people around the world through emergency responses.
Over the next 90 days, World Vision aims to support at least 4,800 people transiting through Iasi with shelter, sanitation, transportation and protection programming, including anti-trafficking and prevention of sexual exploitation awareness-raising.
Your donation can help Diana and other families fleeing violence in Ukraine. 
How can you help? 
Donate  to help children and families forcibly displaced by the crisis in Ukraine. 
Pray  for peace to be restored quickly and that children and families will be protected from harm. 
Advocate  add your voice to call for peace in Ukraine and protection for affected children and their families.