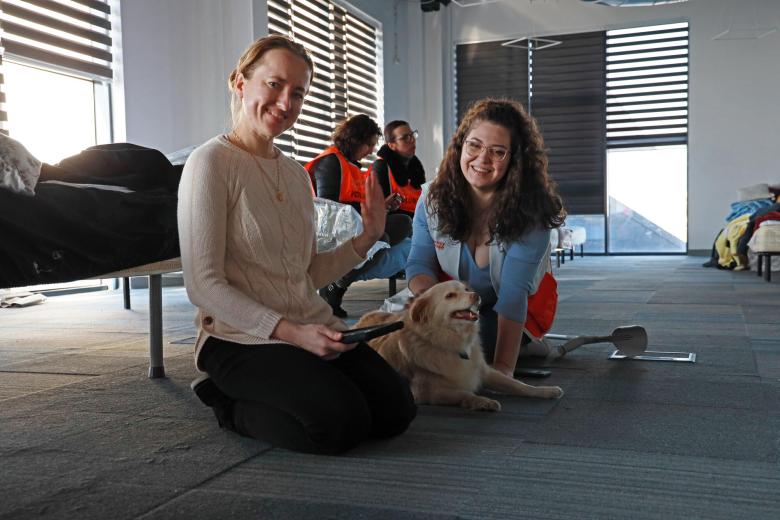 Lyudmyla, refugee from Ukraine and her dog bring joy and hope to families in the refugee transit centre
Thursday, March 31, 2022
"I don't know what I can do right now, except for thanking other volunteers for being so kind," says Lyudmyla.
More than four million people have fled Ukraine in the last five weeks: 600,000 have entered Romania. The majority of them have fanned out into European Union countries but over 100,000 have remained. Their hope is that the violence will end quickly and they will be able to return home sooner rather than later.
Lyudmyla is among those who stayed. She kneels on the carpet-tiled floor of the office building in Iasi, eastern Romania – which many call home for now--where she's now volunteering. With her dog, Viesta, by her side, Lyudmyla has been overwhelmed by the generosity offered to her by strangers on her journey to safety and she is determined to give back.
"I left Odesa five days after the invasion started. We were waiting at the border for nine hours. Then Moldovan volunteers helped us and took us to a shelter. [More] volunteers then helped me get to Romania."
Her 12-year-old dog, Viesta, bravely waited in line with her owner in the cold at the Moldovan border.
"It was horrible. I was with my mother and Viesta. We waited for so long...
"I don't know what I can do right now, except for thanking other volunteers for helping, for being so kind, bringing food, tea, coffee and everything at the border. They even brought blankets. It was cold, but we were OK because we were touched by their kindness and warmth. They gave us love and care."
The volunteers who welcomed her in Romania are students from Switzerland and France. She now lives with them. "The people I'm staying with are very nice; they also have three dogs who get along with mine… But I can't forget about Ukrainian people and I'm here to help them."
Lyudmyla speaks Russian, Ukrainian and Romanian. Recently she put her languages skills to work as a translator for doctors treating refugees.
In her former life in Odesa, Lyudmyla was a musician. She graduated from college as a conductor and opera singer. "I am in a group of musicians, and we are on YouTube." Now, she often sings to the people in the transit centre.
"I have never met so many good people in my life. People should understand that the most important thing is what you have inside – not material things. It's important to be strong, smart, and caring.
Since she found other accommodation, Lyudmyla still returns to the shelter every day with Viesta. "We lift children's spirits and help them feel better. Volunteers are also really happy to play with her," she adds.
A moment of levity means the world to volunteers and aid workers, who comfort refugees through their stories of devastation every day.
"Viesta is very kind. If you are stressed or sad, she can make you feel better. The children love to play her."
When she and Viesta aren't supporting staff and those seeking shelter, she's on her tablet using social media to contact and support her people– whether in Ukraine or the diaspora.
Lyudmyla uses her Facebook and Instagram accounts to communicate with people in Ukraine, helping them with information and means to cross the border.
"I feel like there is much more I need to do to help in Ukraine, but I'm afraid to go back. If I can help here, I will. But I'm too scared to go back."
"[In our family], we were raised to have empathy…. I watch the news and if there is anyone that needs help, I try to help."
For more information about the work World Vision is doing to support those affected by the crisis in Ukraine and support our efforts click below.