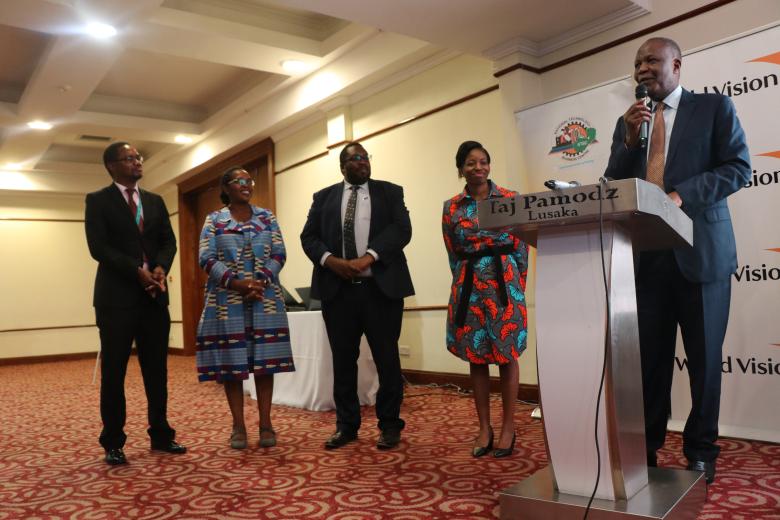 World Vision and AgriPredict launch mobile Application to help farmers access early warning and weather information
Thursday, August 25, 2022
By Agatha Mali, Communications Officer
In Partnership with AgriPredict and National Technology Business Centre Solutions, World Vision Zambia, through the Ministry of Science and Technology, has officially launched the AgriPredict mobile application that will go towards helping farmers get timely information on weather, crops and market linkages for farmers. 
During the launch, Honourable Minister of Science and Technology Felix Mutati commended the application as a game changer that will transform many people's lives, especially small-scale farmers.  
"The application is a place where we practically technology to change people's lives, especially small-scale farmers. There is an interchange of information and opportunities which can help the farmers assess the extent of risks associated with farming," he said.  
He added that the application provides convenience for the farmers and eliminates the culture of guesswork during the farming season. 
"Instead of guessing whether to plant or not, the application will help the farmer by predicting the weather and planting the right crop at the right time," he said.   
The honourable Minister said the application will allow farmers to make money and create jobs.  
 "When you eliminate all the risks and improve productivity, you will make money and create jobs through this application," he said. "We have so much talent in this country that we need to capture and turn it to create positive outcomes." 
And World Vision Zambia Integrated Programmes Director, Wezi Kaira, said World Vision being a child-focused organisation and valuing partners, has been in partnership with AgriPredict solutions since 2019.
"We have been collaborating with the communities, AgriPredict and government departments to set up community satellites and district disaster management committees to set up the early warning systems," he said. "And with AgriPredict developing this application will help us to inform farmers to be looking out on what to plant for their season as well as for their marketing processes will increase positive outcomes of the farming business in our communities." 
He stated that World Vision is also interested in the broader side of the environment to see how it can be protected, thereby working with farmers to ensure that they regenerate and preserve the forests that were depleted.  
"We are trying to use technology to show how we can map some of the forests that have been regenerated and also changing the technology of how the farmers can to an be able to practice farming to ensure that it becomes cheaper, productive and more profitable," said Mr Kaira.
The Agripredict application provides farmers with risk management tools on a smart mobile phone. Farmers now have access to disease diagnosis, weather, market (buy & sell), early warning system and access agri-services closest to their location.