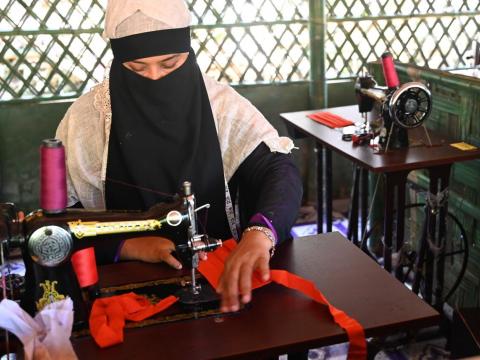 Rohingya women and girls make face masks to help protect their community from COVID-19
Thursday, August 27, 2020
Kajol concentrates as she carefully feeds the orange cloth under the sewing machine needle. She swiftly folds and stitches the material, working with skillful precision as she finishes the tenth face mask she's made this morning. Before the day is done, she will have churned out almost four dozen more. This 27-year-old Rohingya single mom is on a mission.
Kajol is one of 12 Rohingya women who have recently learned to sew so they can help protect their community from COVID-19 here in the world's largest refugee camp. They are helping to save lives while earning a small income themselves. For most, it's their first paying job. The majority have never gone to school. Like most Rohingya women, few can read or sign their names. But they are determined to master sewing so they can help support their families.
"I am excited to receive cash from for my work," says Kajol, who has made 538 masks, earning 8,070 taka (USD101). She and her six-year-old, Shahid, haven't seen Faisal, her husband, for years since he moved to Malaysia to find a job. Kajol assumes she'll never hear from him again.
"I will buy meat and good food for my son when I get this cash," says Kajol, smiling. "We have not been able to eat fish or meat for a long time. I couldn't afford to buy clothes for myself or my son either."
In addition to earning a small income, Kajol is making an important contribution in the refugee camps. Face masks have been in short supply here since the COVID-19 crisis began in March 2020. UN agencies and NGOs, including World Vision, have struggled to meet the daily demand for disposable face masks for the 860,000 refugees.
As of 21 July, 62 Rohingya refugees had been tested positive for COVID-19, with six deaths to date, according to the World Health Organization. Although the number of cases seems relatively low given the camp's population, the risk of infection is high in the cramped, overcrowded conditions. Social distancing is almost impossible given the overall population density of 40,000 people per square km.
To help Rohingya families stay safe, World Vision began training refugee women to sew and produce re-usable cloth masks, as part of a project funded by Korea International Cooperation Agency. As of 24 August 2020, 12 women trainees had produced 4,670 cloth masks. The target is to produce 4,000-5,000 masks per month as more women complete the training course.
Each trainee earns 15 taka per mask—a fair wage in Bangladesh where most people earn USD$3.00 a day. World Vision buys the masks from the women and distributes them in the camps.
"Every day, I come to World Vision's centre at 9:00 a.m. and I leave at 2:00 p.m.," says Kajol. "Day-by-day, the number of masks I can make is increasing. The first day, I could only make 14 masks. The next day, I made 27 and the third day I made 54. This is how I have made 538 pieces so far."
Kajol is thankful to have been selected to participate in the training programme. Priority was given to single mothers, women-headed families, widows, divorcees and people living with disabilities.
"If I was not in this skills training course, I could have been in great danger. Two months ago, I decided to go to Malaysia. I paid money to a broker to help me get on a ship," says Kajol. Human trafficking is a major concern in the camps. In February 2020, at least 15 Rohingya—mostly women—died, and many more are missing when an overloaded boat bound for Malaysia capsized at sea.
Thankfully, Kajol's neighbour introduced her to World Vision staff, recommending her as a potential training participant. "My mother also told me to join," says Kajol. "She said the good name of World Vision is heard everywhere."
As part of the training course, the women also learn about gender-based violence prevention and other issues, while building a social support group.  "I am very happy to be here. All the women here are my age," says Kajol. "We can share everything with each other."
Through counselling and awareness sessions, the trainees also learn how to identify and prevent COVID-19—information they pass on to their family and neighbours.
"World Vision staff made us aware of about the symptoms of COVID-19, such as high fever, cough, respiratory complications, throat and chest aches," says Kajol.
Fellow trainee Kaifa, 28, chimes in, eager to share what she has learned. "To keep ourselves safe and protected from COVID-19, we have been advised to maintain social distancing, avoid public gatherings, and not to out of our homes unless it's an emergency," she says confidently. "We also know to wash our hands for 20 seconds frequently in order to be protected."  
Kajol realizes the contribution that she, Kaifa and the other women are making. "The face masks we are making are saving our lives."
Story: Xavier Sku/World Vision