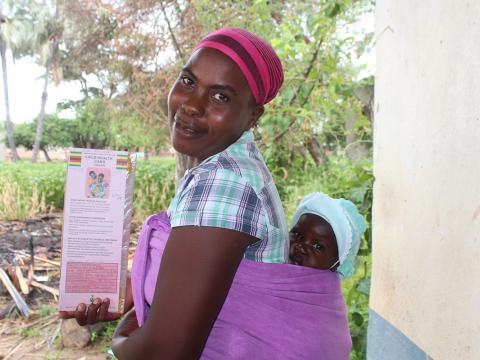 Improving Children's Health by Breaking Harmful Religious Practices
Thursday, October 24, 2019
By Munyaradzi Nkomo, Communications Specialist, World Vision Zimbabwe
The numerous graves of infants littered all over Gokwe North and Gokwe South districts in Zimbabwe serve as sad reminders to the many lives that have been lost to preventable diseases, such as Pneumonia, Diarrhoea and acute respiratory Infections.
Breaking the religious barriers to enhance children's health
In response to this situation, World Vision in Zimbabwe is partnering with the Pfizer Foundation to conduct the Enhanced Life Course Immunization project by engaging with apostolic church leaders, using our Channels of Hope programme model.  This programme catalyzes faith communities and individuals to act on their God-given responsibilities to honor, uphold and restore the dignity and value of every human being and to help ensure that even the most vulnerable experience fullness of life. Once educated and empowered, congregations work with World Vision to create sustainable, community-based maternal and child health interventions, often through advocacy first.
Zale, one of 345 faith leaders who participated in the project and used to advise his followers against modern medicine, has never looked back. Today, he has taken it upon himself to break the religious barriers.  Since coming on board, Zale recounts how children and adults from his "Marange" church died from preventable and curable diseases such as diarrhea.
At 67, Zale is starting a new chapter in his life which will not only benefit him and his family, but also the congregants and future generations. Not only has he has broken the religious barriers which kept people from accessing health services, he is also an active social mobilizer, vowing to serve his village and the entire congregation he leads. He has become the point person in reaching out to fellow church members, who trust him and believe they can embrace his training. He is taking advantage of his leadership role in the church to encourage other congregants to embrace modern health services and has also been trained as a Village Health Worker.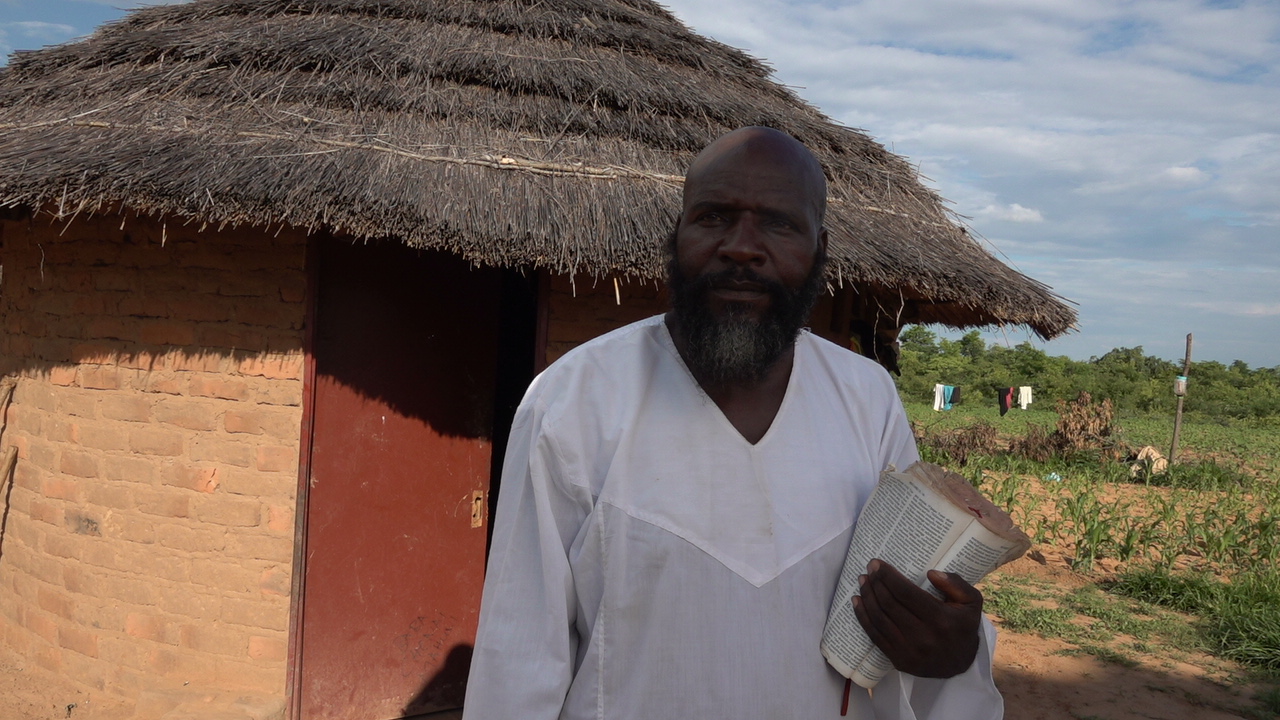 "After the trainings, I understood the issues of child and maternal health. I then came back to the village and trained fellow congregants until I reached a total of 45 people in my area. In turn, they also shared the knowledge with more people. Since then, more and more people from my church are now going to health centers for children to be immunized. Women are also embracing family planning methods such as the use of "jadel' or 'depo' although they are not doing it publicly due to religious reasons," he explained. 
Over the years it has been problematic to convince the ultra-conservative religious groups to embrace modern medicine. However, Zale and other faith leaders, are now championing change within their neighborhoods. They have formed 34 Channels of Hope Action Teams known as CHATs, which have seen co-religionists embracing modern health services. As a result of their social mobilization techniques Zhamba, a local clinic, witnessed an increase in the utilization of the Expanded Program on Immunization services.
The challenge
The challenge in the district has been high rates of illness and death among infants, children and women. The Maternal, Newborn and Child Survival Report in Zimbabwe from 2014 showed that the main diseases causing the death among children under the age of 5 in Zimbabwe are:  HIV (21%), Pneumonia (12%), Diarrhea (9%), Measles (8%), Pertussis (5%) Malaria (3%) and Meningitis (2%), most of which are preventable through effective immunization programs.
Other challenges to the low coverages include geographic deterrents, logistics and vaccine availability and storage. Further complicating things, health workers often do not have adequate resources to reach every district, negatively affecting the government's efforts of reaching every child and every district with immunization services. Religious and behavioral issues also adversely affect immunization coverage. Other factors also include limited access to health facilities, which are usually located far away from the most vulnerable communities. In some cases, people have to travel more than 8 kilometres to access health facilities, deterring them to access immunization services or vaccines.
Although district health authorities are working tirelessly to reduce infant mortality and morbidity rates through the Expanded Program on Immunisation (EPI), a multitude of challenges prevent them from offering more services. In 2018, the Government of Zimbabwe allocated 8% of the total budget to the Health Sector which is far below the 15% budget share recommended under the Abuja Target.
This makes it difficult to achieve better health outcomes, especially in the remotest parts like Gokwe which is more than 340 kilometers from the country's capital, Harare. The districts in Gokwe are characterized by rough rocky terrain and gravel roads that are littered with craters. The roads are in such a bad state that it takes 5 to 6 hours to drive to Sai clinic, which is 170 kilometers from Gokwe South district centre. The situation worsens during the rainy season as the roads are slippery, making it impossible to transport essential drugs to the most remote parts of the district. In some places, accessibility is hindered by flooded rivers which make roads impassible as there are a limited number of bridges. All of these factors makes carrying out awareness campaigns on health issues to the most vulnerable especially the ultra-conservative religious churches who shun modern medicines and health services extremely difficult.
Response and Impact
In an effort to increase vaccination coverage in the two poorest performing districts, the project advocated for decentralized outreach services and engaging the religious vaccine objectors on the importance of maternal and child health. To ensure sustainability, reducing travelling long distances as well as maintaining confidentiality, the project came up with the "Health Facility-based Outreach," an innovation that will ensure that the immunization process continue beyond the lifespan of the project's implementation. Under this approach, a health center, such as a clinic, does not wait for people to come to the facility. Instead, health professionals are mobilized to support or perform health-related activities, such as immunization and primary health care, in places that are difficult to reach. They bring health services close to the communities. This strategy has proved to be beneficial as shown by the increased involvement of ultra-conservative religious groups and the community leading to increased immunization coverage in these two districts. 
These activities contributed positively to an increase in children who are fully immunized with recommended vaccines before the age of one. Results from the evaluation report show that the percentage of fully immunized children increased from 43% (38) at baseline to 66% (147) at evaluation among children from ultra-conservative apostolic churches (those that shun accessing health services and believe in faith healing). The social mobilization role played by the leaders contributed to an increase in immunization coverage. Both Gokwe North and Gokwe South districts had low immunization coverage as compared to other districts within the Midlands Province. Interventions under the Life Course Immunization Project have increased immunization coverage. According to the Midlands Provincial Nursing Officer, Pauline Rwenhamo, Gokwe North had low immunization coverage of 60% of the targeted population Preliminary results from the End of Project Evaluation report show that Pentavalent 3 coverages (proxy indicator for capability of a health system to capture children with recurring vaccines) improved for both districts against the tide of the National level which have been stagnant at 88%. Gokwe North improved to 85% while Gokwe South to 80% both had a 13% increase over their baseline. During the life span of the project, a total of 113,087 beneficiaries were reached through various activities including vaccination, trainings, and roadshows. 
Sustainability aspects of the project
The greatest impact of the project is its sustainability. The fact that the project was implemented with and within the Government, the Ministry of Health structures is sheer testimony that the project interventions will continue after its lifespan given that the ministry's primary mandate is to ensure the health of the nation. Further, the involvement of Village Health Workers and tradition is vital as they are strategic partners who will also mobilize people within their communities to embrace modern health services. Faith leaders also play an important role to lead their congregants to access modern health systems and medicine.
The project was also complemented in areas where World Vision has long-term development programmes (called Area Programmes). This long-term presence provides support to the Expanded Program on Immunization, meaning it will continue after the life span of the project. Prior to the implementation of the project implementation the Area Program has been collaborating with communities in the rehabilitation of Gandavaroyi and Gumunyu clinics including the construction of a staff house at Gandavaroyi clinic. The life course immunization project was implemented in Gokwe North and Gokwe South districts which are hard to reach and are characterized by harsh weather conditions. This speaks to World Vision's 2030 strategic imperative of deepening its commitment to the most vulnerable children.
The project positively contributes to World Vision's ministry and can be scaled up in other countries
The successful implementation and positive impact from the Life Course Immunization Project interventions creates a window through which World Vision can fulfil children's aspirations in areas where it operates. There is need to mobilize more resources for the sector so that the health of children and communities is improved. The project can be replicated in all area programs within the country. The project or its interventions, such as the Facility-Based Outreach approach on immunization can also be implemented in other countries where World Vision works.