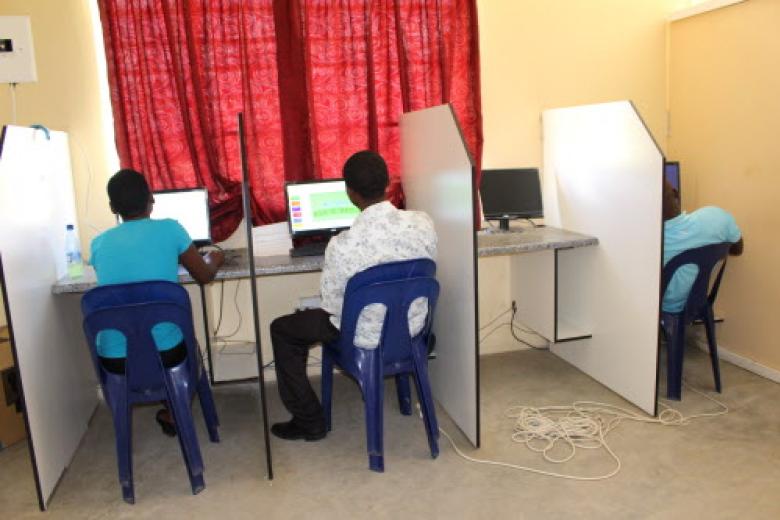 Computer centre changing lives
Thursday, May 22, 2014
SITHOBELA – Today, 39 people are computer literate and 17 are currently going through the International Computer Driving Licence (ICDL) Training at Sithobela Area Development Programme (ADP).
All this started off as special gift from the United States of America (USA). In 2006 the Sithobela ADP received 12 computer monitors as Gifts in Kind (GIKs). Initially, the ADP did not have a clear vision of how best to utilize this gift. 
"In 2008 we started partitioning a store shed to start the computer project using under-expenditures. Due to the fact that this was not part of the ADP's design, we only used under-expenditures. In 2011, we bought two CPUs operating 20 monitors. The ADP decided to outsource this project so that it runs on its own and we only monitor progress," Sthembile Dlamini, Sithobela ADP Manager said.
The facilitator Bonginkosi Dladla is a computer teacher in a nearby High School and the accreditation of the syllabus used is from an institution based in the Republic of South Africa called NTC.  
In January 2013 the first group enrolled and they were 24 pupils from the local communities. The second group of 15 enrolled in June 2013. The students were paying for their own tuition, with each of the seven modules costing E350 (approximately US$35). These students included school graduates, teachers, nurses, agriculture officers and others from nearby organizations. The first graduation ceremony for all 39 students was held last December at the ADP site and the Senior Inspector from the region was the guest speaker. 
TESTIMONIES FROM FORMER STUDENTS
Gugu Nhleko, a former student and now working for Deman Investment, had this to say about the programme: "The courses were not easy but I managed to complete all seven modules. 
During the course of the training, the tutor asked us to look for institution and workplaces for practicals. I went to Lulakeni High School and I was attached for a month and I was teaching computer lessons to the pupils. I gained so much experience and self-esteem. After the practicals we came back for more modules and the tutor encouraged us to start looking for jobs even before we completed the course. 
I was one of the lucky ones as I got a job at Demas Investment as Office Clerk because of my technical knowledge of computer. When I finished the modules I went straight to my new workplace and earned my first salary. This felt so good and I stopped depending on my mother for bus fares and other necessities. 
I was able to buy myself clothes and my graduation outfit. On December 06, 2013 I was wearing a new outfit and I was proud of myself.
If World Vision was not offering this course in the community, I am sure that I would still be at home doing nothing, but now I am employed taking care of my family. I would like to do an advance course though and I have started saving more for it."
Tengetile Philile Dlamini, Assistant Tutor at the Computer Centre, wanted to go to university, but her grades were not good enough. Instead of completing a sewing course her mother wanted her to do, she heard about the computer programme, and convinced her mother to let her apply. 
"She paid for me and I started my classes. I had to do double classes because I started late and the rest of the students were way ahead of me. I managed to catch up with the rest of the class because at my former school we used to do computer. I also completed in June 2013 and the tutor asked me to assist him since the centre had introduced afternoon classes to accommodate employed individuals because of the demand.
I started with the 9am class. At first I was scared but as time went on I became comfortable and today conducting lectures is normal to me. I love what I do and the students are very committed. Even though some of them are not working but somehow they manage to pay for the modules. 
Next month I will be registering for an advanced ICDL course and I want to end up being a High School Computer Teacher. 
I am now an independent young woman and I am able to help my mother to pay for school fees for my siblings and buy food for the family. I am really grateful to World Vision for establishing such a centre nearby."