WASH – Water, sanitation and hygiene
Our goal is to promote health, nutrition and access to clean water for mothers and children.
Only 62% of Timor-Leste's population has access to improved water sources and only 36% use adequate sanitation facilities, according to the 2009 Human Development Report of Timor-Leste.
The government target is for 75% of rural communities to have access to clean water by 2015, and 50% to have access to improved sanitation. It is very likely this sector will remain a priority across the nation for years to come.
Access to water is difficult in both wet and dry seasons. People often take water from streams polluted with animal waste and, during the rainy season, full of churned mud. Community members, typically women or children, spend an average one to two hours every day fetching water, walking from two to six kilometres to the source and back.
As well as the lack of access to clean water, unhealthy behaviours such as lack of hand washing, unhygienic food preparation and unsafe water storage encourage the spread of diarrhoea, one of the leading diseases affecting children under five.
Our WASH programmes involve
Developing water supplies:
spring development through on-site capping and development of gravity-fed storage and distribution systems, using hydraulic ram-pumps
where springs aren't available, deep boreholes are sunk. They use electromechanical pumping, storage and distribution systems (where possible solar powered).
The selection of target communities is based on mapping by the National Directorate of Water and Sanitation. When water supply systems are run across village and district boundaries, we often draw on elements of the Local Capacities for Peace/Do No Harm project.
Improving hygiene and sanitation:
employ Community-Led Total Sanitation (CLTS) based on a Memorandum of Understanding with the Ministry of Health
establish WV Health Clubs to link WASH issues with broader health messaging
plan to introduce WASH training in schools, starting in Bobonaro late in 2013
encourage local production of public hygiene and sanitation materials
for Disaster Risk Reduction mitigation and preparedness, we periodically involve the community in awareness raising about emergency situations and planning to protect their water sources and their environment, and to conduct water quality testing.
In our programmes we integrate the Ministry of Infrastructure's Rural Water Supply and Sanitation Program, RWSSP/BESIK, which has issued WASH Guidelines including:
low-cost household water solutions
no direct subsidies for household sanitation so that communities become self-sufficient
CLTS as an approach to hygiene and sanitation promotion.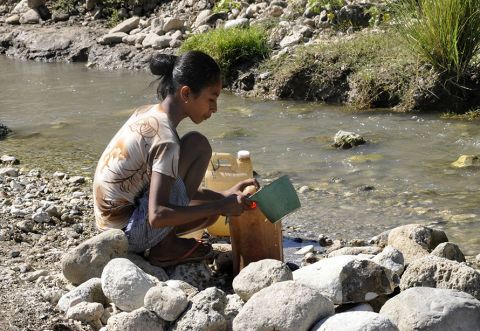 Read more
MoU a symbol of commitment to clean water >>>

New clean water system handed over to Aileu village >>>

A new clean water source one metre from home >>>
A village celebrates the opening of a new water system >>>