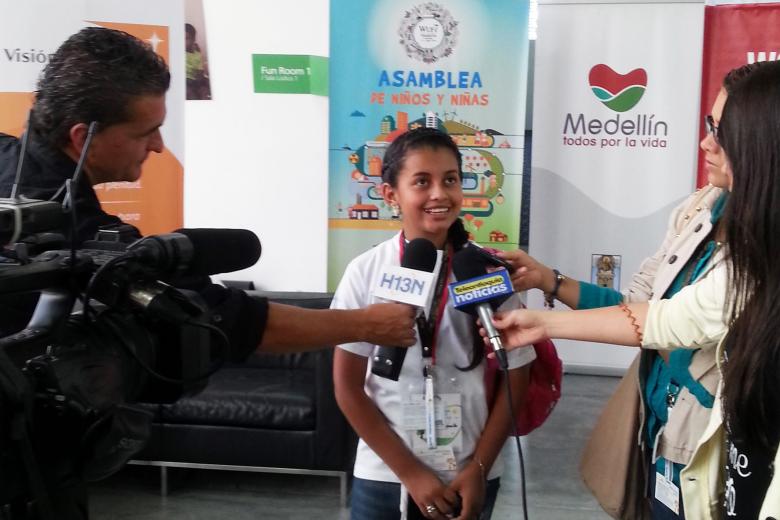 CRC@25: Children are changing the mindsets of decision-makers
Wednesday, May 21, 2014
Recently there have many exciting opportunities opening up for children and young people to participate in high-level events around the world and have their voices heard. With the advent of the 25th anniversary of the Convention on the Rights of the Child (CRC) it is important to take stock and celebrate the progress of child participation.
There are so many exciting examples from around the world. Recently, Carolina, aged 13 from Colombia, was one of the speakers at the 7th World Urban Forum in Medellin, Colombia, and Nour, aged 15 from Lebanon, participated in the launch of the Inter-Agency Guiding Principles for Youth Participation in Peacebuilding in New York. We also have experiences from Uganda, with Johnson, aged 17, participating in the launch of the report Europe can make the difference: How Social Accountability Improves the Lives of Children in Brussels and Anto, aged 17, from Indonesia, attending the Asia Pacific Open Government Partnership Conference in Bali.
This impressive list of bright and inspiring young World Vision delegates highlights that children are interested in contributing to policy debate and influencing decisions that affect their lives. These four events also demonstrate how opportunities for child participation in different levels of decision-making processes are increasing. We are witnessing a profound change in paradigms related to child participation, with decision-makers changing their perception of children as objects of protection to agents of change and rights-holders.
These changes are the result of perseverance and determination of children and young people to participate in decision-making spaces and have their voices heard. They are also the result of the development of frameworks and policies that seek to empower children and ensure the implementation of the principles contained in the CRC.
Over the past few years I believe we have established a solid foundation from which to promote decision-making processes that are more collaborative and inclusive for children. However, it is important to remember that children will be prevented from having their voices heard, unless, we as adults provide the conditions and support needed in order to make it happen.
Carolina, Nour, Johnson and Anton have demonstrated that children and young people are in a position to create participation spaces, despite the limitations of beliefs, values and practices. However, it is important to highlight that child participation is still seen as a novelty or a foreign concept to many cultures and societies. I am convinced that the CRC which has been signed by almost all countries in the world is the best normative framework to challenge the cultural barriers, traditional patriarchal values, gender inequality and age-based discrimination that prevent girls and boys from participating.
The 25th anniversary of the CRC is a significant opportunity to stand up and demand a greater voice and more participation spaces for children. We are not asking for immediate and absolute changes but a progressive and sustainable implementation of the CRC articles and principles.
Discover World Vision's CRC@25 blog series. 
About the author
Patricio Cuevas-Parra is Senior Policy Adviser, Child Participation, Global Advocacy & Justice for Children, World Vision International. Patricio leads and develops the cross organisational implementation of resources to carry out child participation initiatives at the local, national and international levels. He also leads broader efforts to ensure the development of policies, practices and programs in order to strengthen child participation in advocacy.