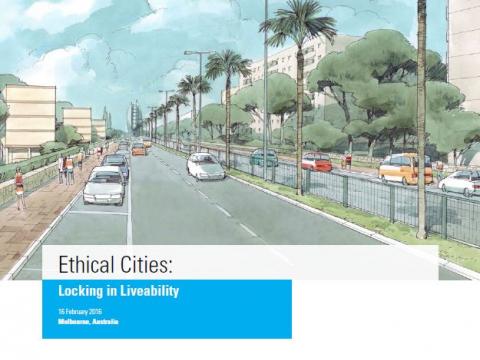 Ethical Cities: Locking in Liveability
Sunday, February 28, 2016
In October 2016, the United Nations adopted 'The New Urban Agenda' at the Conference on Housing and Sustainable Development – a set of guidelines and measurements that will support the implementation of the SDGs in urban areas, specifically Urban SDG #11 "Make cities inclusive, safe, resilient and sustainable". As a lead partner of UN-Habitat's World Urban Campaign, World Vision was approved to organise three Urban Thinkers Campuses as part of a global initiative to inform the New Urban Agenda. 
World Vision International and the UN Global Compact – Cities Programme co-hosted the first Australian Urban Thinkers Campus, themed "Ethical Cities: Locking in Liveability", at RMIT University in Melbourne on February 16 2016.
The "Ethical Cities: Locking in Liveability" Urban Thinkers Campus placed a distinct emphasis on the ethical city as an urgent objective in the New Urban Agenda. Hosted at RMIT University in Melbourne, Australia, the Campus focused on the principles, policies and action planning aimed at bringing ethics and values to the forefront of city planning, urban governance and sustainable urban development. 
It explored the notion of the ethical city through three core themes: (1) Ethical Urban Development, (2) Resilience and (3) Inclusion and Right to the City. Ethical cities are environmentally, socially and culturally sustainable, and utilize transparent, accountable, respectful, democratic, and inclusive mechanisms of engagement.