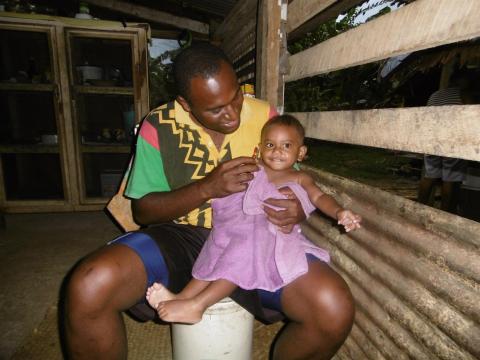 A Better Father
Friday, August 31, 2018
John, 28, is a policeman in the Family Protection Unit. He lives with his partner Rosalyn and one-year-old daughter Astercia. 
The police force on Santo in Vanuatu is quite small compared to the population they serve so John and his fellow officers are regularly called to assist other police departments. John is usually tired when he returns home each night and due to what he is exposed to as part of his job, he isolates himself as much as possible at home to help cope with the stress.
World Vision's Relationship Education About Choices and Healing (REACH) program, funded by the Australian Department of Foreign Affairs and Trade and donations from the Australian public, supports faith-based organisations in communities to reduce gender-based violence. The program also partners with the Family Protection Unit. John and his fellow police officers attended a counselling workshop, run by World Vision, which aimed to support them in working with the survivors and perpetrators of violence. 
A co-facilitator in the workshop, Pastor Mansen Roy remarked, "During the counselling workshops, John was a very active and vocal participant."
John opened up about how attending the workshop has changed his mindset, "For the first time since my daughter's birth, I've made the time to bathe, dress and feed her after learning in the counselling workshop that the consequences of our actions in our families are the result of the choices we make." 
Two weeks later as he bathed and dressed his daughter after returning from work one day, his partner Rosalyn smiled and said, "What he said is true, I was so surprised to see that change and the new role he is now taking up in our home. He knows that when he comes home that is his duty and no one else is to do it."
Pastor Mansen Roy said of the shift in John, "To see the change happen and how fast it has happened is unbelievable!"
John and Rosalyn look forward to attending the next series of counselling workshops.