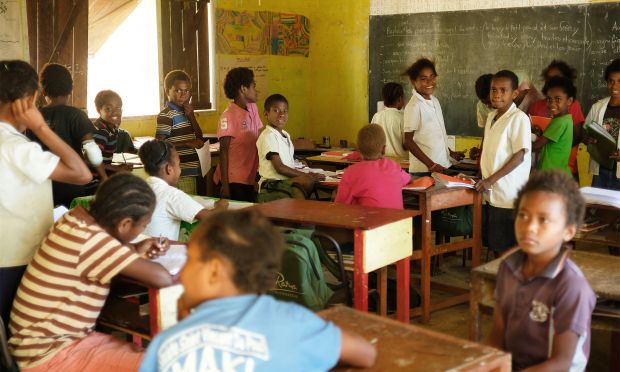 Accessing water is a challenge for primary school students and their families along the southern coast of the island of Tanna in Vanuatu due to the scarcity of water and the pressure on water levels.
Each child is required to bring a bottle of water to school each day to wash their hands before meals and after using the toilet and for drinking.
"When children didn't bring water to school, they were not able to practice good hygiene and could not drink water if they were thirsty. When they didn't bring water to school, it usually meant there was a shortage of water at home as well, so they would turn up unbathed and wearing dirty clothes and we could see the dirt on the pages students' books made by the dirt on their fingers and arms," said school principal Pierre.
World Vision supported the community to make the water system resilient to weather events such as tropical cyclones and heavy rain that can cause flash flooding and landslides in the mountainous areas of South Tanna.
"Now that the students have access to running water at home, water shortage will no longer be an issue for them. They will now have the opportunity to be clean, hydrated and enjoy learning," shared Pierre.
Six-year old student Joe said, "When there is water I am glad because I don't have to go down to the creek or the river to fetch water. I can wash my hands after using the toilet and before I eat, drink water, shower and share water with my friends at school."
"It is so satisfying to see that the work we do can help children," said Jimmy Daniel, the project manager of the World Vision's water, santiation and hygiene project.
Funded by New Zealand government and private donations by members of the New Zealand public, the water system will eventually supply to six other villages in the area.