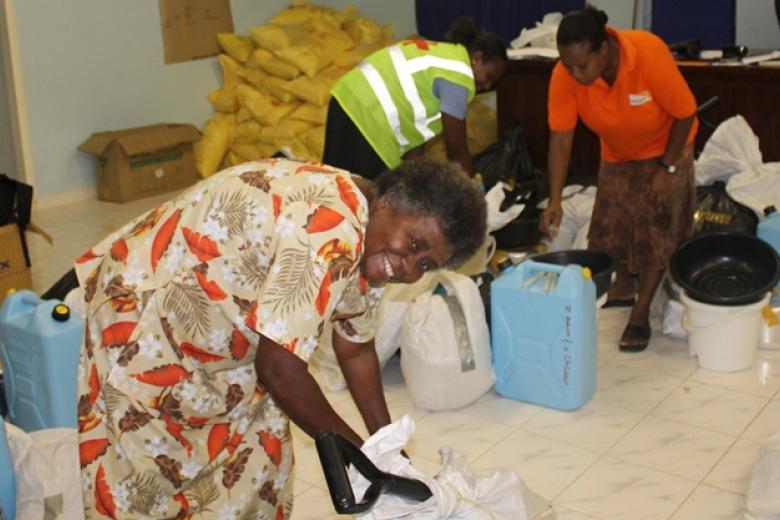 Essential relief items reach cyclone-affected communities in Vanuatu
Thursday, March 20, 2014
Essential relief items are beginning to reach remote communities most affected by Cyclone Lusi's destruction across Vanuatu recently.
World Vision distributed goods to children and their families in Sanma province, in the north-west of the country, enabling communities to repair damage to homes, as well as to meet basic needs.
Cooking sets, blankets, and shelter repair items such as hammers, nails, tarpaulins and handsaws were given to families of Baronte village, in South Santo, one of the worst affected areas in the province.
Deaths as a result of flooding and landslides that buried the village have been reported in the province.
World Vision had pre-positioned relief goods in Sanma, as well as the capital, Port Vila, in the event of a natural disaster, as part of its normal disaster preparedness plan.
Some 20,000 people have been affected by the disaster, due to the cyclone's impact on food supply, including crops and loss of livestock, as well as damage to homes and schools.  Agricultural crops such as banana, breadfruit, cassava, taro and sugarcane are reportedly damaged. Water sources have been contaminated after being filled with mud and debris.
Eight people have been confirmed dead, more than 100 displaced and 2 people are missing.
Assessment teams, comprising staff from various aid organisations, including World Vision, and government representatives, are visiting affected communities.  Teams will assess the short-term and long-term needs of communities. An aerial assessment was conducted by the Government of Vanuatu to help identify the most affected areas.
Expected needs amongst communities include support for food, income-generation activities and building resilience to future disasters.  Further distributions, in collaboration with groups such as the Red Cross, UNICEF and ADRA will occur, once detailed needs of communities are identified.
Vanuatu's National Disaster Management Office is leading the response, working with provincial governments, locally established Disaster Committees and humanitarian organisations such as World Vision.