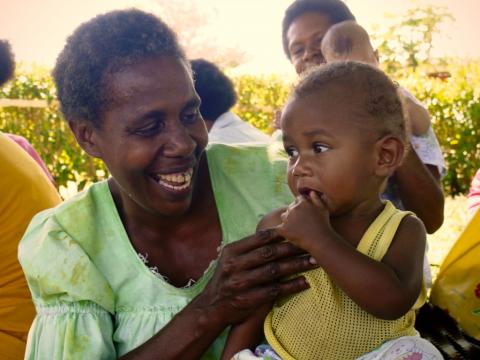 Growing gardens of change
Thursday, January 21, 2016
In Penama Province, most families are subsistence farmers and there are few opportunities to enhance household incomes. With no formal marketplace, families do not have an avenue to sell their produce, growing food only for personal consumption.
However, through World Vision's Economic Development Project, communities are being provided with new opportunities to enhance their income through improved agricultural production and access to market.

With a Gross National Income (GNI) per capita of US $2,620 Vanuatu is one of the least developed countries in the Pacific region. Forty per cent of the total population (with higher rates in rural areas) has an income of around $1 USD a day, with 10-15 per cent under the basic needs poverty line.
High youth unemployment, low primary school completion rates and lack of access to health facilities are key development concerns. Meanwhile, cash income is becoming more crucial to the average Vanuatu household as prices rise for basic commodities and services.
Previously in Penama Province, families did not consider farming to be an important income source, and they only sold produce in times of extreme need. There were no regular processes for selling produce at markets, resulting in high and unaffordable market prices.
While without a permanent market house structure, produce risked being spoiled by animals and could not be left overnight. The market house also includes a kitchen where women are able to buy produce from the market and cook nutritious meals, selling it to other market sellers, but also other community members increasing their income.
For Olivian Garae and her family, tripling her income and increasing her savings has had a profound impact on her family's life. Without access to a regular income, Olivian's four children were forced to drop out of school as she struggled to pay school fees, while her family lived in a basic two room wooden house that often became home to rats and cockroaches.

"Before, my children are on and off going to school, and sometimes I find it hard with my children's medical cost", Olivian said.

Throughout the project Olivian has learnt how to increase her income and savings through financial literacy and savings trainings as well as agricultural trainings to increase production quantity and quality of the root crops she grows. Furthermore, the construction of a market house means that Olivian can sell her vegetable crops all year round, giving her greater and more reliable access to market.

"Today my income earning has tripled and I live in my semi- permanent house. For the first time I have a bank account and save more money. My four children are all in high vocational schools and are not sick…I am a changed woman," she said.
Grant Project
Vanuatu Economic Development Project
Funded by: Australian Department of Foreign Affairs and Trade (DFAT) - Australian NGO Cooperation Program (ANCP)
Time frame: 01 October 2014 – 30 June 2017
Purpose and Objective: The project goal is to increase the economic capacity of producers in target communities in Penama Province, Vanuatu which will in turn improve the quality of life for them and their families.

The project is specifically intentional about supporting youth and women in these communities to engage in economic activities and become productive members of viable producer groups. Specific activities targeted around youth participation, mentoring and capacity development and strengthening are planned. Additionally, trainings and workshops in basic literacy, numeracy, book keeping, market facilitation, gender and household budgeting supports the capacity building of the whole community, along with more targeted training in agricultural production and processing, as well as field visits and demonstrations.

Furthermore the project works with local communities to build permanent market house facilities where families can sell/store produce increasing access to market and reducing transport costs.