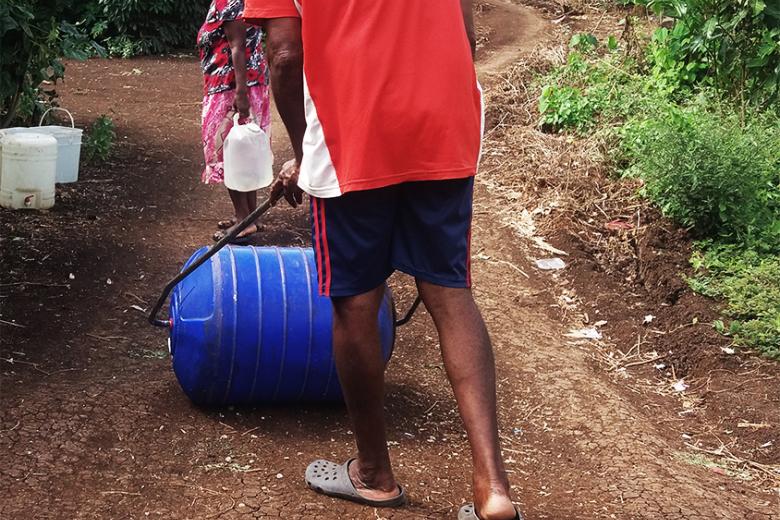 Rolling water
Sunday, February 17, 2019
"When I left Ambae, I was so worried as I was leaving everything I had known since childhood and wasn't sure if I would return or what the future would hold for my family. It was a scary feeling," said 70-year-old Ezekiel.
Ezekiel and his family were evacuated from their island after a state of emergency was declared by the government when the activity level of the volcano on their island increased.
This was the second time they had been evacuated in almost a year and the stress was taking a toll on them psychologically, emotionally and financially.
"When we arrived here we were moved directly to this evacuation camp. From experience we anticipated that our needs would be taken care of in time but we immediately noticed the shortage of water and the lack of proper toilets and showers," stated Ezekiel.
"When we first arrived, there were no water tanks or natural water sources on site for us to access water! This was terrible for us as we would find ourselves not being able to shower for days and things like practicing good hygiene were not an option for us," said Lina, Ezekiel's wife.
"When the community first arrived we were concerned about their hygiene as there was a lack of a large supply of water. This was made even more serious as very shallow pit toilets were made which we knew would fill up really fast, no hand washing stations were available and defecation was happening in the bush around the village," stated Jenny Tawi, World Visions' Ambae response development manager.
"World Vision helped us by arranging water to be trucked in regularly to fill up three tanks owned by the community. This was a great relief for us but as an old man it was very hard for me to make many trips a day to fetch water and even if I could, there were so many of us that water shortage was a regular issue for us," Said Ezekiel.
Then as more water catchments were set up, World Vision distributed over 180 hippo rollers, which can hold up to 90 litres of water, to evacuee families with vulnerable members, such as those with impairments or the elderly. Hippo rollers were also provided to evacuee families living a long distance from the municipal water supply.
"I am old and this has really helped because it is easier for me, not only because of the roller, but also the amount of water I can collect in a single trip saves me so much energy and also provides more water for the family," stated Ezekiel with a big smile on his face.
"I am as happy as my family will now have more water, as a mother and a woman I feel more comfortable as I can practice good hygiene for my family and myself," said 65 year old Lina emotionally.
World Vision has also been assisting the community to help construct tippy taps near critical stations like toilets and public areas which encourages good hygiene practice. The taps also help community members manage their water because of their small nozzles. Hygiene and water management awareness training has been provided to community members, and in the coming weeks, new Ventilated Improved Pit toilets will be constructed.
The Ambae response work is funded by the Australian government through the Australian Humanitarian Partnership, and private donations from World Vision USA, World Vision Canada, and World Vision Australia.