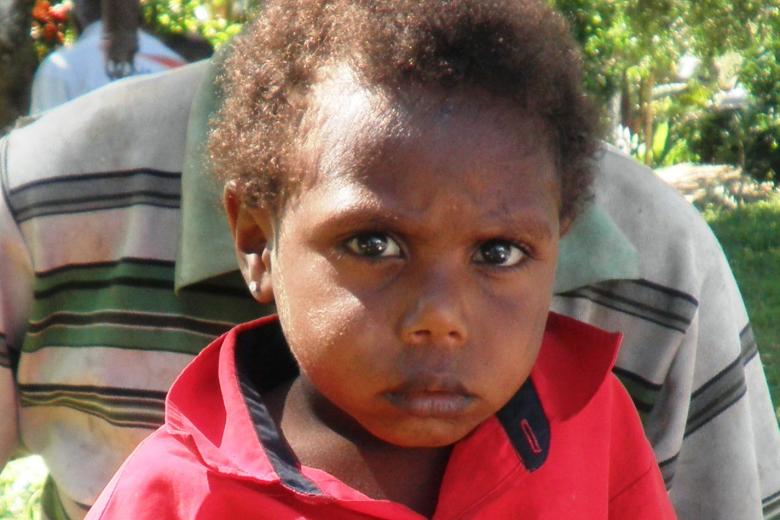 Tomak eats his way to good health
Friday, December 14, 2012
December 2012
Young mother Rossie never knew why her four year old son Tomak was always sick and reluctant to join his friends at pre-school every day. Her island community in Vanuatu does not have a health clinic so it was hard for her to seek advice.
It was not until World Vision started working in her community and weighed and assessed all children under five that Rossie found out her son was seriously malnourished.   
"World Vision followed up after the baseline [survey] and told me that I had to pay special attention to Tomak," Rossie says.  
"They counselled me about my son's weight and health. I informed my husband about what World Vision told me about our son and both of us decided to do something about it."
According to the World Health Organisation (WHO), all forms of malnutrition are a major contributor to disease and early deaths for mothers and children. Undernutrition contributes to about one third of all child deaths, and impairs healthy development and life-long productivity.
In Vanuatu, while severe malnutrition is low, mild malnutrition among children remains high. Some of the social factors influencing nutrition include lack of basic nutrition education/knowledge, mothers' workload, changing eating habits and life styles, traditional beliefs about food, and cultural and social factors which affect the way food is distributed among family members. 
In addition, the cash economy has created dependency on imported foods in both rural and urban communities. When families need cash for school or health service fees, or any item/service that requires cash, they sell their best garden produce. Proceeds from the sale of quality home-grown produce is also used to buy rice, flour and other processed products that are nutritionally inferior.
Rossie attended trainings and meetings with World Vision and has started to see a big improvement in Tomak's health.
"After attending a nutrition training I started to apply the learning at home. I would prepare food the way I had learnt at the workshop ensuring all the three food groups are included in the meal and serve it to my family, especially to my son Tomak," says Rossie.
"Gradually, I started to see changes, he began to gain weight, a little at a time and he was no longer sickly. He was no longer miserable and weepy. He is now strong and happy to go to a pre-school, a 20 minutes' walk from our village. I am very proud of him.
"I've also learnt at the different training why we must use proper toilets and wash hands after toilet. I have been teaching and encouraging my children to follow these good practices. My family is no longer getting sick like before."
World Vision started implementing the Maternal Child Health & Nutrition (MCHN) Project in Rossie's community in 2010. Our project activities include working closely with families to strengthen nutritional knowledge and eating practices. WV also supports families in the cultivation, collection and preparation of nutritious foods within households.
 We monitor the growth of children and when a child is underweight, like in Tomok's case, they are referred for special care. World Vision also works to improve existing health delivery systems at the grass roots level and encourages communities to use the government health services, such as the provision of immunizations, vitamin A and assistance with family planning.