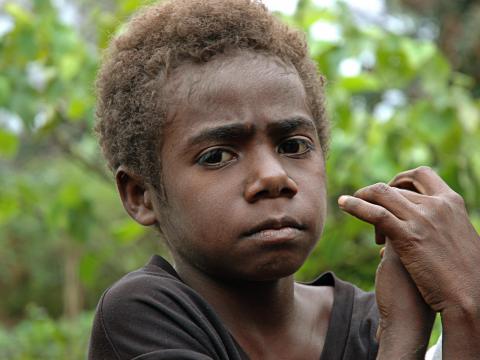 World Vision relief goods and staff ready to assist cyclone-affected communities
Sunday, March 16, 2014
World Vision Vanuatu staff and pre-positioned relief items are on standby to assist communities affected by Cyclone Lusi's destruction across the country.
Pre-positioned goods are in Sanma Province, in the north-west, and in the capital city of Port Vila, ready for distribution.  Staff in two provinces of Sanma and Tafea are checking on the well-being of communities in these World Vision-assisted areas, and liaising with government and other agencies.
Relief goods pre-positioned by World Vision Vanuatu, as part of its standard disaster-readiness plan, include items such as tarpaulins, water containers and purification tablets, mosquito nets, hygiene kits, cooking sets and blankets.
Cyclone Lusi hit Ambae Island in Penama province, in the north-east of the country on 11 March, then moved south-south east passing the provinces of Malampa, Shefa and Tafea.
Some 20,000 people have been affected by the disaster, according to Vanuatu's National Disaster Management Office (NDMO), who is leading the response.
Six people are confirmed dead, six people are missing and others injured by flooding and mudslides caused by the category 3 tropical cyclone.  Homes and churches have been damaged. Agricultural crops such as banana, breadfruit, cassava, taro and sugarcane are reportedly damaged, with initial reports indicating Penama province is the most affected area.  Water sources have been contaminated after being filled with mud and debris.
Mobile telecommunications systems are working in 5 of the 6 provinces, with Torba province in the north experiencing regular disconnection.  Schools in all provinces have re-opened.
National search and rescue teams were deployed on Thursday 13 March to South Santo.  An aerial assessment team was deployed on Friday 14 March to help identify the most affected areas.  More details will be known once assessment teams visit provinces.
The NDMO, working with provincial governments, locally established Disaster Committees and humanitarian organisations such as World Vision.  Once needs assessments are completed, World Vision is ready to support with relief item distributions.