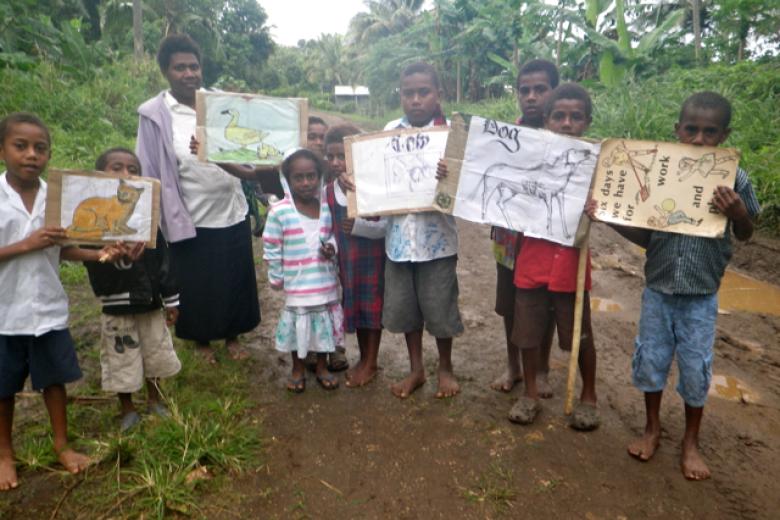 Young woman brings counter-cultural change
Friday, February 14, 2014
By Rosinel Harry, Programmes – World Vision Vanuatu
A single mother of three who was orphaned as a child, Iamek Nakou set out to educate children in a nearby village after being concerned that they were not allowed to go to school. They were not attending because their village chief had directed them to follow "kastom," traditional practices which meant that young boys had to chew kava roots to make kava and young girls had to feed the pigs, garden with the women and cook.
Ms. Nakou began teaching basic phrases in the common language of Bislama, which is essential to learn given that there are 110 local spoken languages across the islands of Vanuatu. Though the village chief became angry with her attempts to bring change and threatened her with a machete, she persisted.
Using local materials to build a small shelter, Ms. Nakou set up a kindergarten class. She had an initial enrolment of 10 children, which soon grew to more than 66 children whose ages ranged from 3 to 16. Girls came to learn as well, though they were still responsible for their domestic tasks.
During this time, World Vision received permission from village chiefs to begin conducting trainings to help communities understand the importance of good health and hygiene. The community developed their own plans to prevent the transmission of diseases and the chief began to recognise the importance of education.
Soon, donations came in to support Ms. Nakou's school children. A school donated educational supplies and a blackboard, while women from the church donated clothes and other school supplies that they had purchased with their own money. Most recently, a community member donated a piece of land so that a bigger classroom could be built for the school.
Although some traditional practices remain, the community is beginning to experience changes in the well-being of their children due to the efforts led by one young woman.