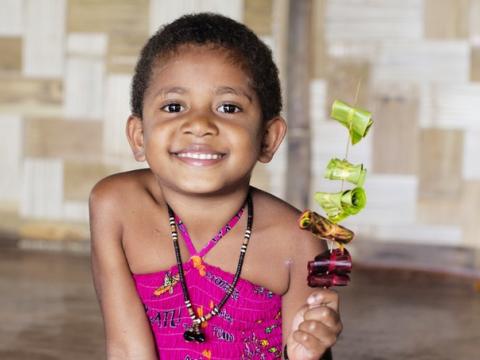 Grants and special projects
We aspire to the highest levels of best practice and accountability in all that we do. See how communities across Vanuatu are benefitting from World Vision's partnerships.
Through World Vision's Economic Development Project, funded by the Australian Department of Foreign Affairs and Trade - Australian NGO Cooperation Program communities are being provided with new opportunities to enhance their income through improved agricultural production and access to market.
On 13 March 2015, Cyclone Pam smashed into the archipelago nation of Vanuatu, with the UN estimating the tropical storm impacted 166,000 people, including 82,000 children. With funding from the Canadian government, World Vision commenced the Vanuatu Cyclone Pam Emergency and Recovery Response project. The goals of the project were to save lives and ease suffering through the provision of emergency relief commodities. Learn more...
On Pentecost Island, young children had few options for preschool education. Thanks to the Australian government's support, through its Department of Foreign Affairs and Trade, for World Vision's Pentecost Education Begins at Home project, children now have access to preschools in their communities.
The Community Health Project, supported by the Australian government through the Department of Foreign Affairs and Trade, is based in Vanuatu's provinces of Sanma, Penama and Shefa. Reaching almost 6,400 people, the project strengthens health services, behaviours, access to clean water and sanitation.