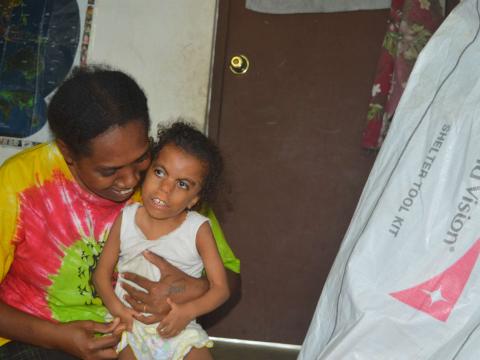 Our approach to disaster response
Vanuatu is a Pacific nation of 83 islands, extended over 1,000 kilometres that is considered the most vulnerable to natural disaster in the world. This is due to both the regular occurrence of natural hazards, including cyclones, earthquakes, tsunamis and volcanoes (high exposure), as well as Vanuatu's low level of coping capacities to respond, lack of adaptive capacities, and high vulnerability.
The Pacific is experiencing an increase in the frequency and severity of extreme weather events: this is projected to continue. In April 2020, Vanuatu experienced its second Category 5 Tropical Cyclone in five years. Tropical Cyclone Harold crossed the archipelago of Vanuatu as a Category 5 storm with catastrophic winds and damage. More than 50% of the total population of the country (approximately 160,000 people) were estimated to be affected, with significant damage to livelihoods, shelter, and infrastructure. Similar catastrophic damage occurred during the 2015 Category 5 storm, Tropical Cyclone Pam, where 81% of structures nationwide experienced some damage, and 65,000 people were completely displaced from their homes. 
In 2020 alone, World Vision has:
Reached more than 7,500 people with the distribution of essential everyday items

Supported 1,422 households with 2,844 blankets

Given 1,894 tarpaulins to 1,277 households

Dispensed 829 gender-responsive, inclusive hygiene kits

Distributed shelter toolkits to 586 households

Provided 1,687 households with specific COVID-19, water, sanitation & hygiene, and gender and protection awareness messaging.
During the same period, families on the islands of Ambae and Tanna have been significantly affected by volcanic activity, with the entire island of Ambae (a population of approximately 11,000 people) evacuated during 2018 due to volcanic eruptions. On Tanna, in April 2020 – coinciding with the response to Tropical Cyclone Harold in the north of the country, and nationwide restrictions to COVID-19 – over 28,000 people affected by ashfall from the Yasur volcano required support in food rations and water.
As a humanitarian organisation, World Vision supports communities to prepare and respond to disasters through climate resilient agriculture, cyclone resilient shelter techniques, and access to savings and capital, as well as working in close partnership with Provincial Emergency Operations Centres (Sanma and Torba) to be resourced to respond to disasters. World Vision also works with Area Councils in Sanma Province to support greater inclusion of people with disabilities in disaster response and preparedness plans. When invited to do so, World Vision supports response efforts led by the Government of Vanuatu to distribute much-needed emergency relief.