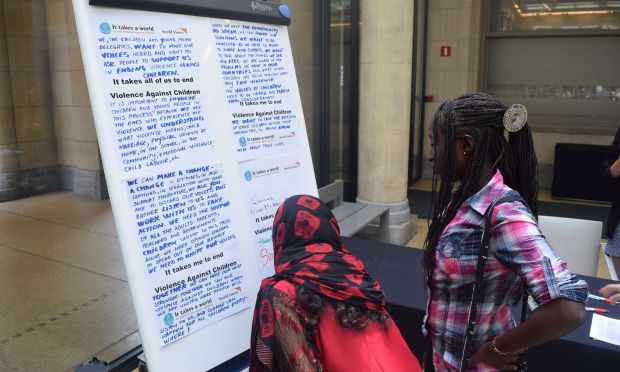 Brussels, 29 June, 2017
We, the children and young people delegates, want to make our voices heard and want to ask people to support us in ending violence against children.
It is important to involve children and young people in this process because we are the ones who experience the violence. We understand what violence means; child marriage, physical violence at home, in the schools, in the community, emotional violence, child labour, etc.
When we have the opportunity to speak, we can share our solutions. We want to be involved as we have so much to share and express. We want to talk about the things we see and feel. We are aware of the problems we have in our countries and what other children are going through when they face violence.
The voices of children need to be heard and taken into consideration. We want to take the experiences of other children outside their communities, so people can know more about their lives.
We can make a change, change in attitudes, in perceptions, in legislation with your support. Therefore, we ask you not to discard our voices but rather listen to us and work with us to take action.
We need the support of all the adults: parents, teachers and governments. Children cannot do this task alone. We need opinion leaders to speak out on our behalf. We need to unite our voices.
Together we can make our voice stronger. Together we can end violence against children. When we are united more people will listen to us, and change can happen for all children everywhere.
Young Leaders for Ending Violence against Children