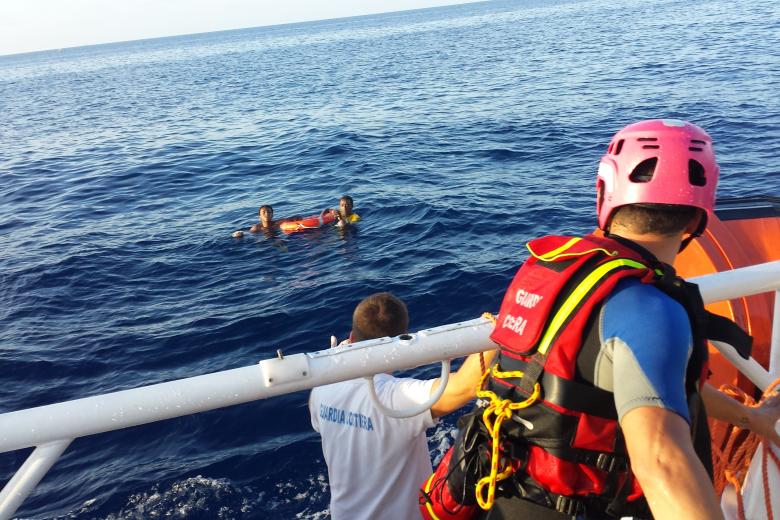 European refugee crisis: Swallowed by the waves on our doorstep
Tuesday, April 21, 2015
This week the Italian coastguard is scouring the Mediterranean for survivors – but too often bodies – of an estimated 950 migrants lost at sea. There are reports as many as 300 people were locked in the hull of boat when it capsized, in what is being described as the worst maritime disaster for decades.
Still seared in my mind is yesterday's image of a man carrying to shore the body of a dead child, after a wooden sailing boat carrying dozens of people ran aground off the Greek island of Rhodes. One of an almost endless series of tragedies involving migrant vessels to Europe.
Every life lost at sea is more than a mere statistic in a media report, or in the volumes of policy documents produced by decision makers in Europe. Every life lost at sea is somebody's innocent child, loving mother or caring father. It is a precious, God-given life, swallowed up by the waves on our European doorstep – without any option to send out a mayday call.
Try to place yourself in the position of a parent from Iraq, Syria, Somalia, Niger or another war-torn society, sitting in a boat, scared, hungry, cold, with your children in your arms. Sandwiched between hundreds of peers, you are fleeing from violence, rape, hunger and other miseries, which most people living in Europe cannot even begin to grasp.
Try to comprehend you have crammed your family in this small boat, if the dilapidated vessel can be called that, not by choice or for the sake of adventure. Instead, you've risked a perilous journey and left behind everything you've ever known to give your children hope – even if it means living as a second class citizen in Europe.
Because that is the reality. And if for one brief moment we can grasp it, then regardless of whether we live in the north, south, east or west of our blessed continent – we should feel compelled to rise up in anger at this preventable human tragedy. We should demand bold and effective action from our leaders, knowing that in Europe we have ample resources, technology and capabilities to save these lives.
Saving lives at sea
We are witnessing the morbid effects of a bankruptcy of imagination and leadership on immigration policies, which in turn is providing a breeding ground for criminal smugglers to profit from the desperation of refugees.
Last November, funding was ended for the Italian maritime rescue program Mare Nostrum, which was launched following shipwrecks of the islands off Lampedusa and Malta that claimed more than 400 people. In just a year it had saved close to 150,000 lives.  
Mare Nostrum was replaced by an EU operation called Triton – its $3.1 million monthly budget is just one third its predecessor – that is coordinated directly by the EU border agency Frontex.
Since its start in November, the Triton operation claims to have saved 7,000 people. But in just in the first four months of this year, over 1,500 people have already drowned in the Mediterranean as they tried to reach Europe. That is a staggering 50 times more than the number of lives lost at sea at the same point in 2014.
It's clear that limiting the so-called 'pull' of rescue programs has not deterred migrants trying to cross the Mediterranean. World Vision believes the EU must seriously consider replacing the disastrously ineffective Triton operation with a properly resourced search and rescue operation that would build on the good results of Mare Nostrum.
Prioritising the protection of vulnerable children
If ever the EU and governments of its Member State faced a crisis of unparalleled proportions – of morality, values and respect for human rights – it is the ongoing human tragedy in the Mediterranean area. It is the kind of crisis that can only be addressed through high moral leadership, shared political will and abundant political courage. Commodities that appear to be as scarce in Europe as the options available to desperate refugees and asylum seekers.
At a joint meeting of Foreign and Interior Ministers in April, Commissioner Avramopoulos, responsible for Migration, Home Affairs and Citizenship, presented a 10-point plan of immediate actions to be taken. These proposals will now be conveyed urgently to the European Council which will meet on Thursday in an extraordinary session to address the situation in the Mediterranean.
While it is commendable the EU has organised this high level meeting at such short notice, reading the actual list of proposed actions makes for a sobering exercise.
Some of the actions in the plan focus on going after the people smugglers and their assets, such as capturing and destroying their vessels, gathering information on their operations and tracing their funds. That is a good thing, but it does little to confront and address the desperate situation of people on the run for violence, misery and poverty. They will inveitably become more desperate and seek other ways to complete their journey.
Other actions focus on stricter control of arriving refugees and asylum seekers, such as deploying teams in Italy and Greece for joint processing of asylum applications: ensuring fingerprinting of all migrants; 'considering options' for an emergency relocation mechanism and a EU wide 'voluntary pilot project' on resettlement; offering a number of places to persons in need of protection.
Also part of the plan is the establishment of a new rapid return program off 'irregular migrants' coordinated by Frontex from frontline Member States. Again, few of these actions take seriously into account the reasons why thousands of people are desperately trying to reach the safety of Europe, much less their human rights – including the right to live and the right to protection from violence.
Instead, with its immigration policies, the EU and its Member States seem to be constructing ever thicker walls around 'Fortress Europe', where 'keeping them out' and 'getting them out' appear to be bigger political priorities than 'keeping them safe'.
World Vision calls upon the EU to fundamentally change its direction and its policies in the face of this ongoing humanitarian tragedy. Specifically, World Vision calls upon the EU to:
Prioritise care for and protection of children in migratory situations;
Open up safe channels of legal entry into the EU, including access to multiple embassies of EU member states in third countries able to assist refugees and asylum seekers with their EU visa application.  
Expand and share the reception and protection of migrants equitably across all the member states of the EU, not just in the member states bordering on the Mediterranean
Increase the capacity of its search and rescue operations in the Mediterranean
Invest more resources and political action in creating peace, stability and economic development in countries from which the major flows of refugees and asylum seekers come;
Ensure the post-2015 development agenda is focused on improving the lives of the most vulnerable children
This year the EU marks the European Year for Development – an opportunity to focus on the efforts of global decision makers to adopt a new and ambitious 'post-2015' framework of universal sustainable development goals. Meanwhile, the appalling human tragedy and loss of life in the Mediterranean continues to cast a dark shadow over these celebrations. It is time to put a stop to this madness. It is possible to put a stop to this madness.
By Marius Wanders, EU Representative and Executive Director, World Vision Brussels and EU Representation; Member of the Board of CONCORD Europe; Civil Society Ambassador for the European Year 2015 for Development