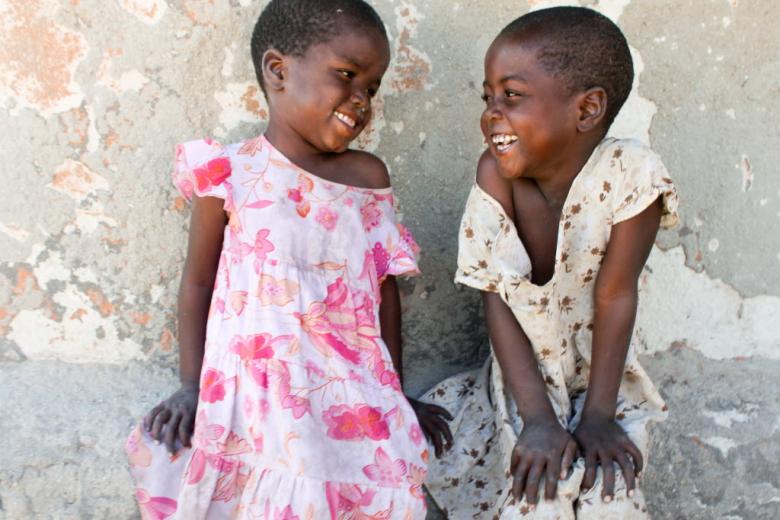 Beauty and Belinda
Monday, November 26, 2012
Suzy Sainovski, World Vision Australia's Field Resources Team Leader, met Beauty and her younger sister Belinda on a resource gathering trip to Zimbabwe in 2011.
Here, Suzy shares her experience of meeting the girls, and her joy upon hearing that they're alive and well a year and a half later.
 They wore little clothing, their noses were dirty and they looked up at us with big, curious and fearful eyes.
That was my first impression of four-year-old Beauty and three-year-old Belinda. Their 97-year-old great grandfather Ameki was unwell and slept in the hut most of the day we spent there. This left Beauty in charge of looking after herself and her little sister who she affectionately calls 'short skirt'.
I've been travelling to the field for almost five years. I've met children and families living on food aid in refugee camps, families whose drinking water comes from a dirty pond, a girl who narrowly escaped life in a brothel and a mother who lost her eight-year-old daughter to malaria. These stories have had a profound impact on me. But never has a story touched me as deeply as that of Beauty and Belinda.
It's important we represent people living in poverty with dignity. I couldn't photograph the girls with dirty noses so I cleaned them. They were instantly comfortable with me. They stood very still while I rested a hand on their heads and cleaned their noses. I wondered when someone last did this.
We asked Beauty to go about her daily chores so we could show people in Australia what her life was like. Beauty collected firewood and water for the family. She also cooked for the family. And with such confidence – I was in awe.
The grains she cooked were received through a World Vision food distribution. Food aid was a lifeline for this family and this young girl was busy keeping up her end of the bargain.
I'm usually a stickler for the rules when I'm in the field. Don't walk around on your own - check, leave villages before it gets dark - check, not too much physical contact with children... this time I think I may have broken that last rule.
Beauty and Belinda jumped up and gripped onto us. How could we deny them? It broke my heart to think that maybe they hadn't been held like this before. They were babies when their mother left and their great grandfather is frail and elderly.
I was sitting on the ground taking photos of Beauty and she thought I was playing peek-a-boo. She kept peeking around the lens to find me! Beauty chatted away to me like an old friend. She called me aunty - which I loved. The girls speak Ndebele. It's one of those magical sounding, virtually unpronounceable 'clicking' languages of southern Africa. I had a wonderful translator but I desperately wanted to understand all the words she spoke, the second she spoke them.
Earlier this year I requested a follow up story and photos on Beauty and Belinda. The wait was an anxious one. What if something had happened to their great grandfather? What if something had happened to them? I instantly burst into tears of joy and relief when I saw their smiling faces in the photos. A workmate asked if I was ok. Through my tears I managed to communicate I was ok – I was more than ok. I ran over to another colleague and exclaimed "Beauty and Belinda are alive!'
It's a year and a half since I met them. Beauty and Belinda's story touched a lot of hearts so I just had to share this update with you. They are alive and they are doing ok. Beauty is in school. What brings me most joy is they are together. Best friends Beauty and Belinda are ok and they are together.