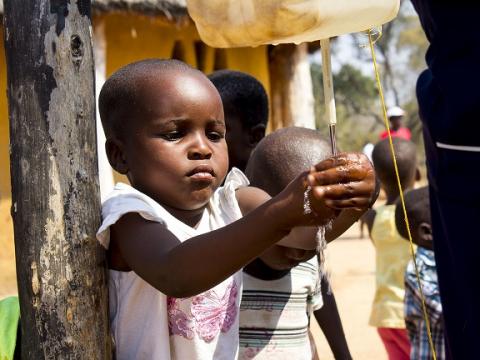 Drought bites hard in Zimbabwe as water sources disappear
Monday, November 14, 2016
Whenever her children rush indoors after playing under the broiling heat of the sun, Greatel Masuku worries. They rarely heed her constant warning, "Don't drink the water. It's not safe." They get their mouths into the open container and gulp anyway.
Most water sources such as rivers, dams and boreholes have dried up in Bubi District's Magaya Village 36 of Ward 8 in the Balanda area. In ordinary times, the supply from these sources is high. From 2015 to 2016, the unrelenting El Nino-induced drought changed that. The villagers now walk for over 4km to fetch clean drinking water. Even urban dwellers were not exempt. 
Zimbabwe's dam levels have fallen below an average of 42% forcing local councils to ration water. The drought situation has driven out water from perennial sources. Livestock is affected. Cropping and gardening are now just topic for conversations, as planting has not been done by many for a time. 
Water and poverty
Dried up land poses a threat to 70% of Zimbabwe's population, a majority of whom are farmers. Farming is the main source of livelihood, without which families will starve. "Three years ago I lost my property to fire. We lost most of our family's valuables. My husband is not employed and the situation has been bad as the heat was too strong for the maize and even sorghum to survive", said the dejected Greatel. 
She is one of many farmers affected by the El Nino. Greatel planted maize and sorghum on a three-acre piece of land that all wilted. Rain usually comes around October but came very late on February. The situation worsened when wild pigs raided the handful of blossoming plants and left the farmers with nothing.
 "The drought left people destitute in our community, robbing us of all that we have", adds Concern Ngwenya, Greatel's 52-year old husband. In Zimbabwe, over 90% of the rural population is living on less than US$1 a day making it one of the most impoverished countries in southern Africa.
 Water means food
The impact of drought was not limited to water. Rural communities are dependent on both animal husbandry and crop production. Families living in poverty spend 90% of their meager household budget on food, mostly on grains. During seasons when weather is good, the farmers grow maize that serves as staple food for the families.
Over 25,000 livestock deaths were recorded during the drought. With 15,000 boreholes that have dried up, cattle prices have dropped from an average of US$450 to US$300. Farmers were rushing the sale of livestock instead of losing them for lack of water and grass. 
World Vision, along with partners, provides help through the cash transfer program, livelihood and best farming practices, schools feeding, livestock feeding, irrigation projects, construction and rehabilitation of water sources, fisheries project support, savings group start up, emergency food packs and production asset creation. The emergency response has reached out to over 900,000 people in nine of Zimbabwe's 10 provinces.   
Greatel is one of the 7,138 cash transfer beneficiaries in her district and receives US$42 along with the six members of her family. This she uses to purchase maize and other household needs. 
"My family has started drinking tea in the mornings and we have sadza in the evening. Lunch is still beyond our reach. When we earn from part time work, we buy relish which is mainly okra and dried vegetables, occasionally beans", explains Greatel. "My family now eats nutritious meals on time and we use all the money we get to buy maize to boost our stocks as we consume 20kg of mealie meal over seven days," she concluded.