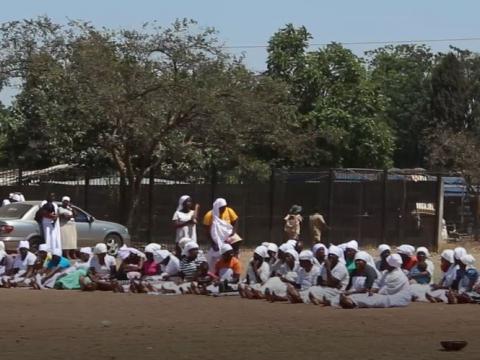 Life Course Immunization project improving the health of marginalized communities in Zimbabwe
Monday, December 24, 2018
The Channels of Hope model being implemented under the Pfizer Foundation-funded "Life Course Immunisation" project is transforming the lives of marginalized communities in Gokwe. Channels of Hope is a methodology World Vision uses to mobilise community leaders, and especially faith leaders, to respond to core issues affecting their communities such as HIV and AIDS, gender equity, gender-based violence, child protection and other important social issues.
The model is already bearing fruit in churches, including conservative apostolic movements which have a huge following and influence in the country. Some of these churches discourage the use of modern medicine in addressing their members' health needs, turning instead to 'holy water' and 'spiritual healing.' Many followers were affected by cholera outbreaks and measles in recent years, suggesting that additional medical awareness would be useful.
Channels of Hope training has been instrumental in raising awareness about the importance of modern medicine. This has included an emphasis on Healthy Timing and Spacing of Pregnancies, an intervention to help women and families delay or space their pregnancies. This education-and-awareness course is proven to achieve the healthiest outcomes for women, newborns, infants and children while respecting people's free and informed choice. It takes into account individual intentions and desired family size, and provides understandable information about maternal, newborn and child health. World Vision places high value on human life and dignity from conception, and does not support or promote abortion under any circumstances.
In one of the Channels of Hope trainings in Gokwe, one of the faith leaders of the 'Marange' apostolic church, Rev Johnson (not his real name) noted that a lot of people from his church had died of curable diseases. He underscored the importance of the trainings in enlightening them. As a result, his co-religionists are now embracing modern medicine. Johnson has become the point person in reaching out to fellow church members, who trust him and believe they can embrace his training.
This requires wisdom, however. Early adopters of new behaviours in health risk being stigmatised by more conservative church members.  A great step has been taken to help this, with the Ministry of Health and Child Care promising confidentiality for church members who visit health facilities outside of normal hours. This arrangement is working in two districts, with the health ministry embracing the special requirements of increasing numbers of apostolic members who come for immunisation and health services.
Johnson has responded to the growing willingness of church members to be active in this area by starting a Channels of Hope Action Team (CHATS), which led to what he describes as "phenomenal growth" among faith leaders.
While many apostolic sect members are still not comfortable with seeking health services openly, this willingness to discretely visit health facilities is a positive step towards better results. Religiously-motivated social attitudes are deep-rooted and take time to be transformed. World Vision provided the church leaders with inter-personal communication skills training, encouraging them to be change agents who will help out to reach out to more members of their communities.
Johnson and his fellow CHATS members are encouraged by the progress they are now helping to lead. A lot remains to be done, but they feel they have the positive tools they will need to save lives and enhance the health of their congregants – despite some negative remarks from those who are reluctant to embrace this transformation in their view on health.