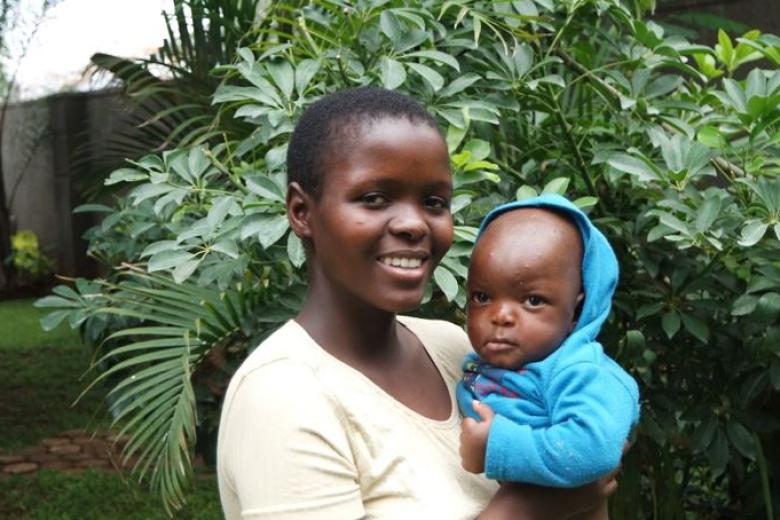 Volunteer saves Lubelihle's life, successfully undergoes timely operation
Wednesday, February 20, 2019
The United Nations Population Fund (UNFPA) estimates that more than 2 million women in sub- Saharan Africa are living with fistula with 50,000 to 100,000 cases developing annually. Without access to timely, high-quality medical treatment, obstetric fistula leaves women or young girls leaking urine, faeces or both, often leading to chronic medical problems and other emotional challenges. Obstetric fistula is particularly devastating because it is both physically and socially disabling to women. It also causes chronic incontinence, secondary infertility, and chronic skin irritation.
This has been the case for seventeen-year old Lubelihle who has been surviving a life of physical and emotional torture after the birth of her son. She developed Obstetric fistula, a medical condition in which a hole forms between the birth canal and bladder or rectum as a result of childbirth. She realised the problem soon after she gave birth. However, nurses assured her that all would be well in time, if she consistently bathed in saline water (commonly known as salt water). The family could not afford the expenses for her to undergo the necessary operation. As a result she had to survive with the condition.
The home visits by one of the volunteers in Mangwe under UNFPA funded World Vision Behaviour Change project saved Lubelihle's life. She was admitted to Plumtree hospital for a surgery and the operation was successful.
"I am happy to feel normal. I am now able to do other chores and sit among others with confidence and can finally continue with my life!" she said.
Lubelihle and her mother

 Sakhile Ndlovu (Lubelihle's mother) could not hide her joy.
"I am thankful to World Vision for identifying our need and referring my daughter to those who would help her, she will now be a normal woman," she said.
Lubelihle is now on a birth control plan. Given the opportunity she desires to go back to school and dreams of being a nurse.
Currently the Behaviour Change Program is in the process of creating synergies with the IGATE Transition Education Project also operating in Mangwe amongst other Districts, to enable Lubelihle to enrol for Community Based Education, an out of school program aimed at equipping school dropouts with functional literacy, numeracy and other life skills that will map the way for further positive transition.