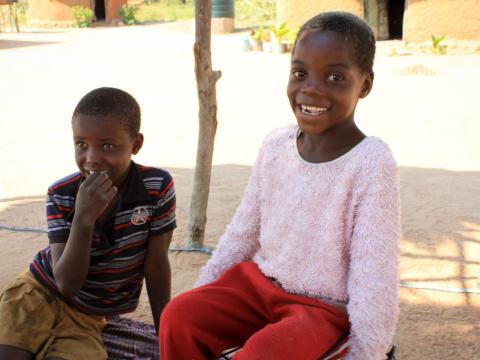 World Vision through the eyes of a child
Tuesday, October 2, 2018
The work of World Vision in Zimbabwe is captured through the eyes of eight year old girl. After getting chicks, her family grew them and sold them to buy clothes and food for Christmas. They also received irrigation equipment that they use to water a lovely garden.
"Last year I enjoyed Christmas because I was in very new clothes. We also had lots of food to eat. My mother bought us clothes before Christmas." 
This is how eight-year-old Mary Maidunyiswe starts her story. She shyly tweaks her fingers and toes. Four other children stand at a door of one of the three mud huts. A dog's bark is heard from a distance, then the ding of a cow bell or a donkey neighing. This is life in Robert Sinyoka, a community found less than 30 km from Bulawayo. 

"We enjoyed Christmas because mother, after selling some chickens bought us clothes and food. We received the chicks from World Vision. I do not remember how many they were. We reared and sold them and bought clothes for the whole family. We also had good food which included the chickens and I shared mine with a friend called Tafadzwa.

"I like what World Vision has done as they have also given us books. I like reading the books they gave us and also do my homework in the exercise books World Vision gave us. I like going to school every day in the uniform that my mother bought for me. I like school because I want to be a pilot when I grow up. I want to fly in the skies.

"I also help my mother water the garden. There are tomatoes, onions, beans and vegetables that we sell and buy things for the family. We have also bought, one, two, three, four, five chickens. I want to buy some goats after selling vegetables from the garden. World Vision gave us the irrigation equipment.

"I will sell the goats and chickens so that I buy cows to milk. I like to drink milk and put some in my tea," Mary says.