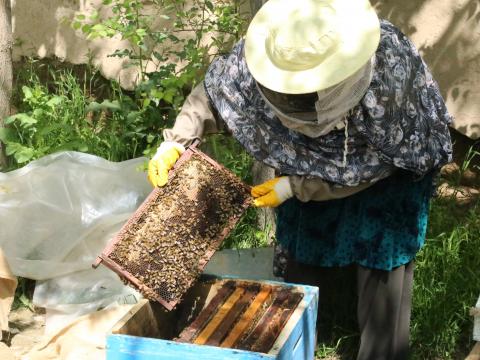 To bee or not to bee? Drought may hold the answer
Friday, December 7, 2018
The recent drought in Badghis, Afghanistan, has not only affected farmers and livestock but has also taken a toll on pollinators, leading to an increase in bee mortality and a decrease in honey production.
Sadgul, 27, is a beekeeper trained by World Vision Afghanistan (WVA). She joined the programme five years ago with no knowledge of or experience with beekeeping or honey production. The mother of four lives in a small village located about 15 kilometres from the centre of Badghis City.
Everything was proceeding according to plan until six months ago when Sadgul came to the realisation that normal dry conditions were turning into something much less normal – a sky and clouds that bore no foreseeable signs of rain.
She started with two bee boxes and over the years added 20 more with bees numbering between 15,000-17,000 per box. "There are now 10,000 to 12,000 in each," she says. "This year it didn't rain enough. Flowers depend on water for making nectar, which is a problem at the moment." Bees can die of starvation when flowers aren't producing regular amounts of nectar. "The rain came very late, after all of the crops and flowers had already burnt up."
 The drought roughly halved the overall number of flowers, also halving food sources for bees. Last year Sadgul could make approximately 290,000 Afs (USD $3,800) by selling 300 kilograms of honey. With that money she could afford treatment in Pakistan for her youngest son who was born with a hole in his heart. But now the family is starting to worry about basic expenses. "I think it's going to be…over a 140 kilogram difference in honey production compared to last year, when I harvested over 300 kilograms."
 Her husband, a farmer, is among those in the village whose hopes faded when everything they had cultivated dried up. Last year around this time he was busy tending to his crops, but now there are no crops to tend to. "I had planted sesame, chickpeas, cumin and watermelon six months ago, but all of them [simply disappeared] into the soil…as if nothing had been planted." He adds that this has been a tough year for everyone in Badghis; in his 43 years he has never experienced such a drought.
 If not for the money the family had saved over the years they too would be among the 150,000 families displaced to Qala-e-Now City or Herat Province. "Currently we are using our savings. We spend it carefully with open eyes. I don't know if rain is coming this year or not. If not," she says "all my bees might die. There is no one I can find to sell the boxes to. Everyone is getting poorer day by day."
 According to Mr. Barekzay, WVA Badghis Zonal Manager, "Bees usually survive on their own unless you are in a drought. Now bees need extra help." He adds that this could require bucket-feeding bees with their own honey or providing them with sugar water.
 To prevent mass starvation of bees, World Vision has distributed 500 kilograms of sugar to 220 beekeepers. "Right now, [population] surge is a necessity for hive survival," says Barekzay. "Hopefully each hive will have enough stores to survive the winter months."
 Honey is a highly valued commodity in Badghis and Herat. Each beehive is capable of producing between 20 and 25 kilos of honey, which can be sold for 1,000 to 1,200 Afs (USD $17) per kilo at the local bazaar. In the five years that Sadgul has had her bees, she has invested everything: time, energy, emotion. "Whenever I see their dead bodies, or when I notice they are sick, I feel upset as if they were my own children. I hope God shows mercy this year and sends rain and snow."
 If not, Sadgul and her family have already considered what lies ahead. "If the situation doesn't change," she says, "we might [have to leave our home in] the village for either the city or to Herat Province." And if they do, they would join the growing number of those forced from their ancestral lands to scrape out a living on harder ground.
About the beekeeping project
In an effort to strengthen communities in Badghis through building resilience and sustainable livelihoods, World Vision Afghanistan (WVA) introduced the "Australia Afghanistan Community Resilience Scheme (AACRS)" programme with funding from the Australian Government. The programme was implemented in partnership with Afghanistan Conservation Corps Organisation (ACCO), the Department of Agriculture and Livestock (DAIL) and the Department of Rural Rehabilitation and Development (DRRD).
To address and improve the poverty and economic status of households and empower women in the society, World Vision started beekeeping project under the AACRS Programme in Badghis as an effective and easy income-generation tool for women, as honey is a product with a high profit margin.