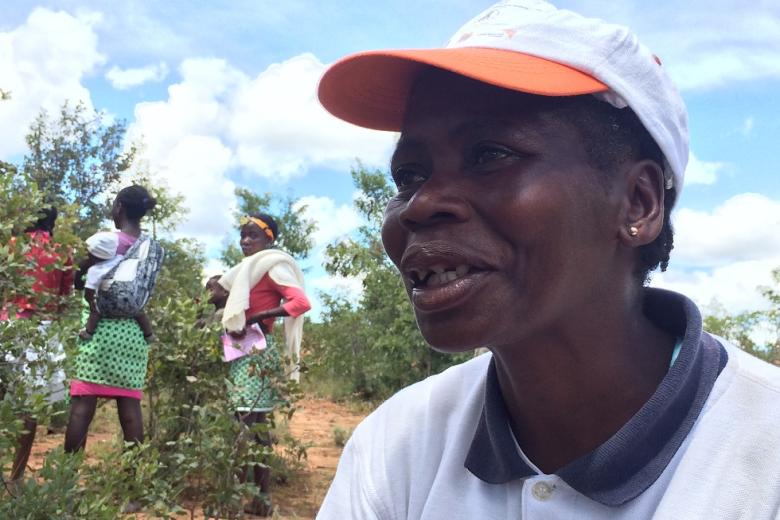 This Angolan health worker battles malnutrition with passion and persistence
Thursday, April 13, 2017
Over 30 mothers turned up during the health monitoring activity that day. The sun was bright and scorching but cool breeze was blowing. No one seemed to notice listening intently to the lead woman speaking in front.
This mother of 11 takes her job very seriously. As a health worker, 53-year old Teresa Joana Ndunguvyougo has to walk at least 10-15km to get to the villages she serves. She does it twice a week visiting eight villages in a month. "I once wanted to be a teacher but I got sick and had to quit my studies on my 9th grade", she said. She was not able to fulfill that dream.
She was married at 18 and has three children. Then her husband died in an accident. "I learned so much about life from him. I was so young then", she sadly recalled. She remarried to Sabino and has eight children, one died due to diarrhea. Teresa explained that marrying in her village means the father decides on the suitable husband, who then gives the girl's family a dowry of two cows.
Sabino has to repay her late husband's family with two cows when they got married. Now 67-years old, Sabino has stopped working as a driver while Teresa supports the family that has expanded to 17 grandchildren.
"Every mother in the villages just wanted one thing – for their children to grow up healthy. We have to help them because they are the future of the country", she said. "When we started the program, there were many malnourished children but now we see the progress and many are healthier", she added.
In the beginning, Teresa admits it was not easy to promote awareness on proper nutrition and screening of the children. "I also struggled on the process, the registration and completing the documentation. It takes a lot of patience and hard work", she said with a wry smile. Teresa also has to walk daily for 10-15 km to visit the communities she assists.
She receives a stipend from World Vision's nutrition program but Teresa said her biggest reward is seeing that the mothers have come to understand how important the health and nutrition of their children. "I also got to apply it with my own family. Now I grow vegetables and livestock to be able to provide good nutrition for my children", she concluded.