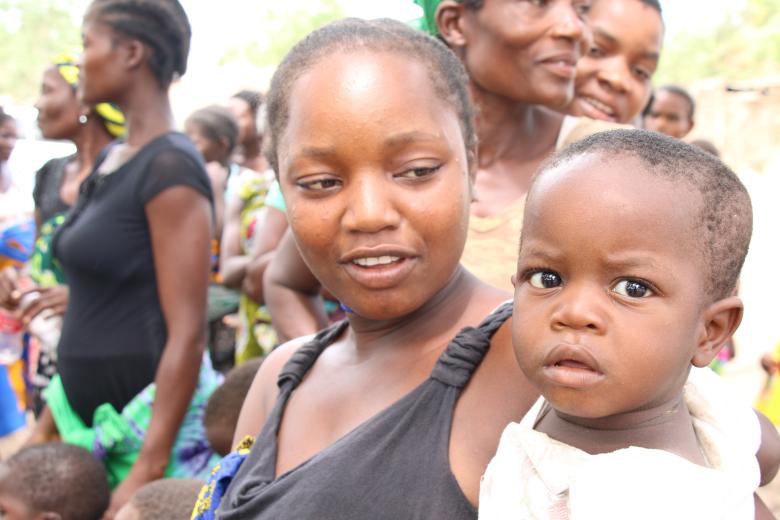 ADECOS the hope for those without access to basic health services
Friday, January 4, 2019
Malaria continues to be the leading cause of infant mortality in Angola. Between January and August 2018, there were over 8,000 malaria-related deaths, more than half of these were children aged between 0 and 4 years, according to the National Malaria Control database. 
Most vulnerable communities do not have qualified and well-equipped health services, many residents have to travel more than 15 kilometres to get to the nearest health facility, which does not meet the minimum conditions of attending patients as they lack the most basic medicines.
In places where access to health services is still a distant reality, community development and sanitary agents (ADECOS) are present to serve these communities by promoting behavioural change and conduct malaria diagnosis and treatment at community level of children up to five years of age.
Thanks to a program funded by the Global Fund.
The benefitting communities love this malaria initiative with the ADECOS. 
"Our community is large and we do not
have any medical facility close by. 
Therefore this is a good initiative and we want it to continue and if possible 
for it to expand to other provinces," Said the traditional leader from Icolo e 
Bengo Municipality, in Bengo Province.
These agents are making a real difference. Even though they face challenges 
such as crossing the river to collect medicines to serve the community, they 
are always available for house-to-house visits, diagnosis and treatment of 
simple malaria. The agents are also responsible for promoting good hygiene 
and sanitation practices.
"The ADECOS work extremely hard, conducting house visits looking out 
for those who are sick and providing assistance," Beneficiaries from 
Muapenzo, Malanje. 
The Government is also fully on-board. It developed the 'Community Agents'
policy to ensure that when malaria cases arise, they are handled at the 
community 
level, making it easier for families to treat their children 
even at home. 
World Vision is supporting the Government of Angola to implement and
disseminate the ADECOS policy and training the agents in Malaria 
diagnostic and prevention.  This will  help to reduce the number of malaria 
cases in
the country by 60%, a goal set by the Government by the year 2021.
Alfredo Francisco, World Vision's executive director of the program, 
said that the health services in Angola are still in a very dire state, 
particularly in communities in remote locations with difficult access to 
Municipal centres.
World Vision is mainly in charge of planning, acquiring, distributing and 
controlling the stocks of health supplies and medicines, intended for
communities where the project is being implemented. The project covers
34 municipalities in six provinces directly targeting 1.5 million children
under five years old, until 2021.