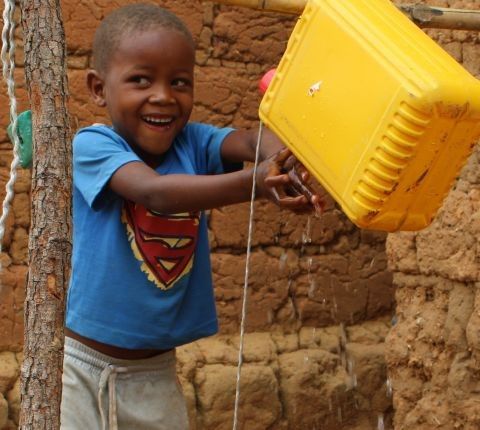 We want to see all children enjoy access to clean water and improved sanitation facilities close to their homes. We are working towards this by:
Improving the water, sanitation and hygiene conditions of the most vulnerable children
Ensuring safe and equitable access for all
Ending Open Defecation
Nearly half the population of Angola (49.3%) lacks access to clean drinking water. More than half (54.7%) of schools in Angola do not have access to adequate sanitation facilities and most (68.6%) have no hand-washing facilities on site. The situation is especially difficult for girls once they reach adolescence as only 28% of schools have adequate facilities for girls when they are menstruating.
We are partnering with communities to increase easy, reliable access to clean water through the drilling of new boreholes and the restoration of non-functioning water systems. And, we are working with schools and health centers to ensure children and their families have access to clean water while they are studying or at a clinic by installing water points.
54,893 people (including 33,122 children) gained access to safe water through the rehabilitation of 114 water points (102 in communities, one at a health facility and 11 at schools).
63,594 people (including 30,187 children) now have access to improved sanitation facilities, following the construction of 6,330 latrines.
4,793 caregivers learned about appropriate hygiene practices.
72 communities were declared Open Defecation Free (ODF) benefiting 63,594 people.
*all numbers from 2016 and 2017