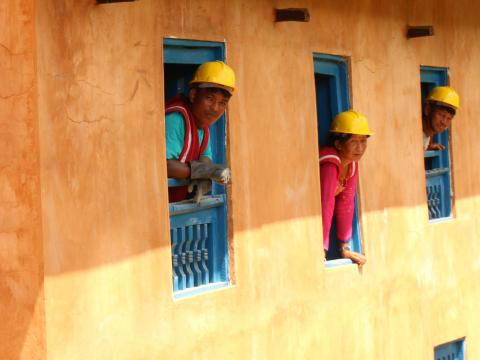 Building a new home after the earthquake
Tuesday, May 22, 2018
Sindhupalchowk was one of the worst-hit districts when a 7.8 magnitude earthquake struck Nepal on 25 April 2015 affecting 14 districts. According to Ministry of Home Affairs around 600,000 houses were fully destroyed and nearly 300,000 partially destroyed. Three years on, significant progress has been made.
World Vision, in coordination with partner NGO Association for Rural Welfare Nepal, National Reconstruction Authority and local government bodies,  has been supporting the earthquake-affected communities in Sindhupalchowk to rebuild their homes. So far, 304 houses are being built in Sindhupalchowk and furthermore, 21, 400 households have been supported to build semi-permanent make-shift shelters, 151 masons have been provided technical training and 11,340 people have been oriented on Build Back Better approach.
Jit Bahadur's Story
24-year-old Jit Bahadur Majhi was in Malaysia when he received a phone call from his village in Sindhupalchowk District about the massive earthquake that hit Nepal in April 2015. Immediately, he was filled with fear and worry about the survival of his family. So much so, that he was no longer motivated to go to work and started questioning his hard work if his family was not even alive. Since cell phone networks were congested after the earthquake, he was unable to contact his family for a few days; days that he lived and worked in doubt and fear. His worry subsided when his family members called him to let him know that they were alive although living in fear since there were continuous aftershocks.
Last year, when he returned home, his village looked nothing like he remembered; a flattened gloomy place had replaced a once functioning community. His own house had been ruined beyond recognition and his family was residing in a temporary shelter made out of iron sheets.
"In this iron sheet shelter, we have made temporary dividers to separate rooms but the dividers do not close properly. As a female member, it is often quite uncomfortable sharing an open space with my brother-in-law. I just had a baby a month ago so breastfeeding is a challenge, as is changing my clothes," shares Parvati, 27, Jit's wife. 
Then in the same year, World Vision began its reconstruction work in the village, under the guidance of the National Reconstruction Authority (NRA). Jit Bahadur's brother, Harka Bahadur, received mason training and initiated reconstruction of their private home from the first tranche of money received from the programme. Jit, having worked as a construction labourer back in Malaysia, was able to support him during this process and was content to see the changed practices.
"We used these practices in Malaysia while constructing buildings there, so I am happy that the same things are being practiced here. The minimum criteria of the foundation being at least three feet deep, and the use of double rods at the edges and the installation of lintel bands is sure to make this house earthquake resistant," he beams.
As their construction work advanced, the family received all three tranches of money through World Vision as provisioned by the NRA. At present, the building is complete, with only the installation of doors and windows remaining. The Majhi family of 12 is excited to move into this house, back to a safe refuge, away from the worry of the threat of disaster. 
Watch this video to know more about World Vision's Nepal Earthquake Response