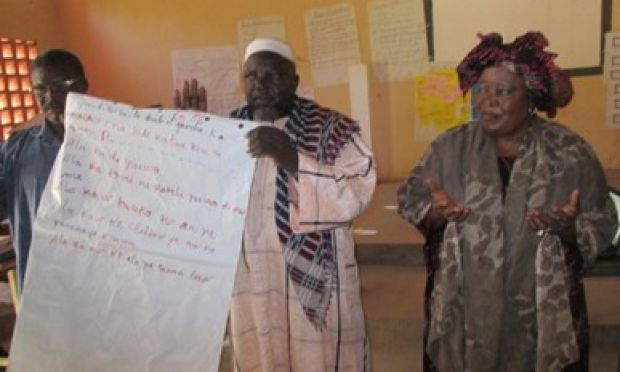 Written by Daniel Coulibaly, Faith & Development Manager, San - Mali
WV Mali's Faith and Development's project is enabling faith/ community leaders to lead the way in adopting trusted ways of creating peaceful family environments for the nurturing of children. Through the Celebrating Families Curriculum (CFC) module, countless communities are being given the opportunity to take a new look at family life values and make informed choices when confronted by issues that lead to family disintegration. The experience of Imam Mamadou KONE, 45, is a case in point.
Imam Kone is a well-known community leader, serving as imam of Benena, Secretary of Information of AMUPI and Secretary of Cultural Activities of the High Islamic Council of Tominian prefecture. He is married to three wives and is a father of ten children.
Imam Kone was part of a CFC training held in Tominian for thirty religious and community leaders. When it came to the module session dealing with resolving past hurts through confessions, forgiveness and initiating family councils, Imam Kone was visibly shaken from concepts shared. Apparently, he had been going through difficult family life moments that his leadership abilities could not help him resolve.
The next day, in a state of emotion, he opened up to the class. "There was a terrible misunderstanding between my wives and me. There was no forgiveness between us; no real communication or family council. I managed my family with struggle, despite my religious knowledge. I even intended to divorce some of my wives because of my disagreements with them". He continues, "The information from the training allowed me to return to the scriptures, to reconsider the teachings of the prophet, to forgive, and to initiate the family council at home as suggested from the training." Imam Mamadou KONE continues,
"My family was on the verge of collapse. Yesterday, we had a family council and until the rooster crowed, I did not sleep. This training is healing my family. I had a lot of training but this one is exceptional ". At this point, Imam Kone broke down in tears, a thing hardly seen of men in public, especially by persons of his status.
CFC is enabling participants to reflect on new ways of handling family disagreements, instead of the easy option of divorce that ends up placing untold burdens on innocent children. Imam Kone's story is one of numerous impact stories shared during the year by participants of CFC training. This year alone, eleven CFC sessions have been held with 361 faith leaders and other community leaders in 29 ADPs. With stories such as these, it can confidently be said that CFC values are gradually seeping into Malian community and family life and paving the way for improved nurturing of children.