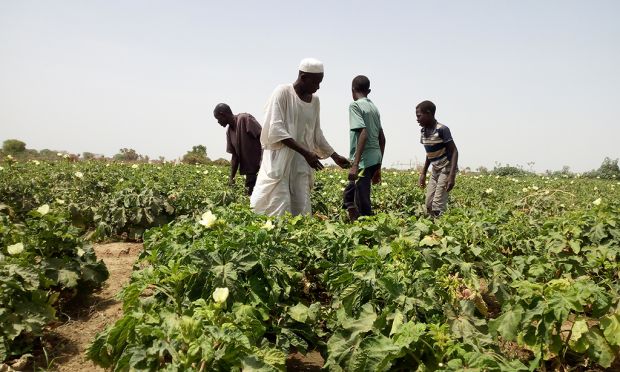 Today, the world marks "World Food Day," and this year's theme: "Investing in food security and rural development" serves as a reminder that collective efforts in investing in agriculture are the key to providing adequate food nutrition for children and their families in the world's most vulnerable countries.
Nowhere is this more evident than in Africa, where many countries are facing food insecurity, due to a combination of drought, political instability and conflict. At the present time, an estimated 24 million people have been affected by drought and conflict across four countries - Ethiopia, Kenya, Somalia and South Sudan.
In Sudan, despite favorable agricultural performance in 2016 due to improved rainfall, an estimated 3.6 million are in need of food and livelihoods assistance, according to the 2017 Humanitarian Needs Overview.
World Vision has been working with local farmers in South Darfur and Blue Nile states to help boost food production with funding from donors such as the European Commission and UK's Department for International Development (DFID). In South Darfur in particular, World Vision has been working to enhance farmers' vegetable production through micro-irrigation. This process not only helps them to diversify their crops but also reduce sole reliance on rainfall as a water source.
Mindset change for farmers in El Salam locality
Forty-year old Ahmed is a vegetable farmer in the village of Kuli, approximately 40 kilometers west of Nyala, the capital of South Darfur. Some of his 13 children attend school not too far from the family's home, about half a kilometre away.
Ahmed is one of the 330 smallholder farmers who have been supported by the Transition to Development (Tadood) project funded by the British government through DFID and implemented by World Vision. It focuses on providing farmers with training how to plant new types of vegetables and increase crop production through micro- irrigation.
"Since the project started, we have undergone a series of trainings, that included change of mindsets on agriculture which led us to adapt to new farming strategies such as using available water sources, piping and irrigation pumps to channel water to our farms through irrigation. We used to only depend on the rains to plant crops, and because the rains are seasonal, we would wait until the June-October season to plant," Ahmed said.
In addition to equipping the farmers with new knowledge, the participants also received support in the form of an irrigation pump (and fuel for the pump to start with), hosepipes as well as certified seeds that included onion, okra, cucumber and tomato to get them on their feet.
"A lot has changed since 2014 when the Tadood project was brought to this village. We now produce crops all year round and we are not buying most crops because we grow them. Instead, we are supplying to the market," Ahmed noted.
Ahmed and his group members planted hot peppers, okra, onions and tomatoes in four acres of farmland in November 2016. In April 2017, the group harvested 533 kilogrammes of peppers, 60 boxes of tomatoes, 50 sacks of onions and 100 sacks of okra. Their records indicate they earned a total of 83,600 Sudanese pounds, which translates to more than $8,300 (U.S.).
After settling their expenses, such as the cost of pesticide and fuel for the irrigation pump, the group shared equally that remained. Ahmed spent the money he received to pay school fees for his children. He also bought three goats and contributed towards the cost of replenishing the money to pay for fuel and seeds for next planting season. As of April 2017, the group had saved more than $1,700 (U.S.) as well.
When World Vision followed up with Ahmed in October, the goats had multiplied to six. The goats are a good source of milk for the family. Kaltoouma, one of Ahmed's three wives, says her children are healthier because they are consuming milk daily.
Her elder son eight-year-old Abdul likes to help with taking the goats for grazing-during the weekends- alongside his little sister six-year-old Makkah.
Besides the group vegetable farm, since he has extra land, Ahmed is applying the knowledge gained from the training in his own farm. He started the second cycle of planting in September. His farm is flourishing with hot pepper and he is hopeful of good yields. "I think I will earn at least SDG 20,000 (about $ 1,442) from it.
"With the other members of my group, I look forward to continue deploying this method of irrigation farming and using only quality seeds because they have proven to us that we can get higher vegetable yields and income to sustain our families," Ahmed says.
In the same locality, but a different village is another beneficiary Zahara, 70-years old. After receiving training on vegetable production through micro irrigation, Zahara (pictured below) is confident she has gained adequate skills to produce vegetables throughout the year and that as a result she is able to take care of herself in her old age.
In the same village, Fatma (in her mid 20s) and 45-year-old Khadija are in the same group and in their group farm they have planted eggplants. The women (pictured below) are happy that they are now able to diversify their diet and improve their children's nutrition as well as earn decent income when they sell the vegetables.
Once relying solely on annual rains and on a few traditional food crops, farmers in El Salam locality are a shinning example of how communities, given the opportunity, can unlock their full potential.