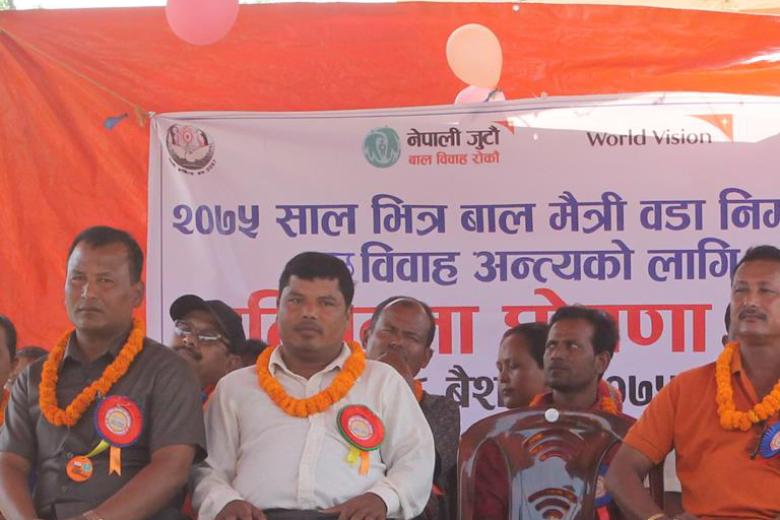 A commitment to end child marriage
Friday, June 1, 2018
The people of Lakhantari in Gramthan Rural Municipality, Morang District have witnessed numerous child marriages in the past. Recently, however, several attempts have been made to curb these. To date, five child marriages have been stopped through initiations of the Ward Child Protection and Promotion Committee. Unfortunately, there are no concrete measures yet in place to ensure the long-term elimination of child marriage.
In order to highlight the problem and bring awareness to local communities, on 11 May 2018, an elaborate ceremony was jointly organised by the Ward Office of Lakhantari, Nari Bikash Sangh,  World Vision, and other organisations. The event saw the participation of students, academicians, teachers, students, health personnel and other community members. The meeting was chaired by Namo Narayan Majhi, Ward Chief and Aman Lal Modi, Member of Parliament graced the event as the Chief Guest.
The event commenced with a rally starting from Shree Birendra Secondary School and Shree Beganlal Basic School. Passing through several parts of Lakhantari, the rally finally culminated at the premises of the Ward Office. Participants of the rally sported placards with awareness messages about the negative impact of child marriage.
Expressing his commitment to end child marriage in Lakhantari, Aman Lal Modi shared, "Child marriage is significantly prevalent in communities of the Terai region due to poverty and illiteracy. Hence, awareness is key in ensuring that it is no longer practiced. The government is in the process of implementing laws that clearly bans child marriage and polygamy; with severe punishment for those who practise it."
Bijay Kumar Biswas, Member of Parliament, also spoke about the negative impacts on health that child marriage brings, "Both the male and female bodies are not prepared for marriage when they are young and thus, undeveloped. In particular, a girl who bears a child at such young age risks her own life and the life of her unborn child. As responsible citizens, let us commit to advocate for the end of child marriage by the end of the year".
Shiv Chaudhary, Chairperson of the Rural Municipality reiterated his support for the event and expressed his commitment by saying, "From this day onwards, Gramthan Rural Municipality will give special focus to ending child marriage in Lakhantari. We will organise planning meetings with several I/NGOs and other stakeholders where a definitive strategy will be finalised".
In addition, along with plays acted out by local theatre groups, locals also signed a commitment flex to solidify their commitment. 17-yearold Sushmita, a local student of Birendra Secondary School shared, "The message of the programme was clear and the plays further helped to ensure its clarity. After the programme, I understood how harmful child marriage can be, especially to young girls who face the risk of death during childbirth. In the future, if I have to face this situation, I will speak against it and will seek support from the local police. I too am committed to end child marriage in my community."
Closing the event, Namo Narayan Majhi, the Ward Chief said, "Through this platform, I state that the Ward Office will commit to ending child marriage. I would also like to thank everyone who came today to show support and ask that you all continue to support us in this endeavour."
This initiative is part of World Vision's five-year campaign spanning from 2017 to 2021 called 'It Takes Nepal to End Child Marriage'. The campaign aims to contribute to reduce child marriage in Nepal through improved community practices and government systems by 2021; in line with the global Sustainable Development Goals.