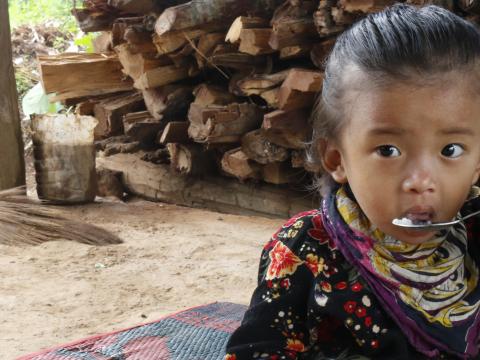 Communities fight malnutrition in Udayapur
Friday, November 10, 2017
The jewel of the sky is the sun. The jewel of the house is the child.
"Alisha is the apple of my eye," says her mother, Mana, a farmer from Rauta, Udayapur. "Every day I pray to god and thank him for blessing my family with this beautiful baby."
As a loving mother, Mana prepares nutritious meals for her two-year-old daughter every day and she knows the significance of nutrition for growing children. But things were not always like this. "Until few months ago I did not even know which type of food was nutritious and suitable for my baby girl. I didn't know how to prepare nutritious gruel and rice pudding. As a result Alisha was malnourished and underweight which made me and my husband worry a lot and we spent a lot of money on her treatment."
"Earlier, I simply prepared baby food in the traditional manner which was not nutritious enough but when I attended Positive Deviance (PD)/Hearth sessions conducted by World Vision I learnt a lot. Before, I just prepared gruel using only rice but after the sessions I started adding fresh vegetables and lentils to make it more nutritious. I also started feeding her fresh fruits," says Mana.
PD/Hearth is a well-established methodology for sustainably reducing malnutrition in young children using community wisdom. It is one of World Vision's core project models in nutrition.
Kuber Adhikari, Acting Health and Nutrition Manager at World Vision International Nepal explains, "PD/Hearth targets children 6-36 months of age and their families, but the whole community is involved. Community leaders, volunteers and health staff participate in the PD Inquiry to discover existing local practices which prevent malnutrition. Volunteers share this local wisdom with families of malnourished children through a peer learning process during the Hearth sessions."
"The community takes ownership of the programme and everybody celebrates as the children at the Hearth begin to gain weight and enjoy better health," he adds.
Mana says, "When I attended the Hearth sessions with other female community members I prepared and fed Alisha nutritious gruel, rice pudding every day and by the end of the 12–day Hearth sessions she had gained 300 grams. I was so overjoyed that time. When they weighed the baby and told me she had gained some weight my eyes became moist. I knew that very moment my Alisha was not going to be malnourished anymore," she recalls.