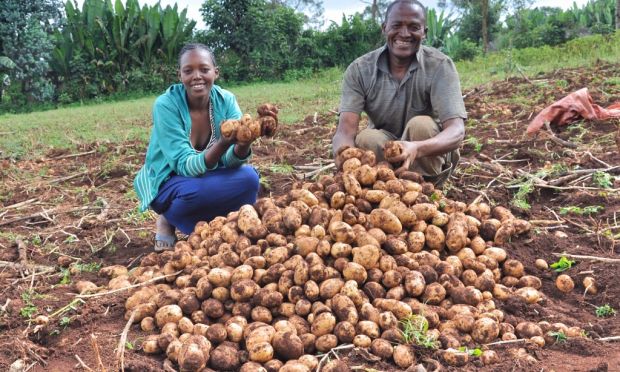 Twelve years ago, Roba Biftu could only see darkness. His wife's death and extreme poverty left this 44-year-old father of 11 feeling hopeless. "I had nothing to eat, let alone to feed and educate my children," Roba explains somberly.
Roba got help. World Vision enrolled his son Tadele in the sponsorship programme. His life started to turn around. World Vision provided Tadele with school materials to ensure the boy could get an education. Secondly, World Vision sent Roba to Chencha, an apple production area in Ethiopia, enabling him to learn new farming methods and about new crops.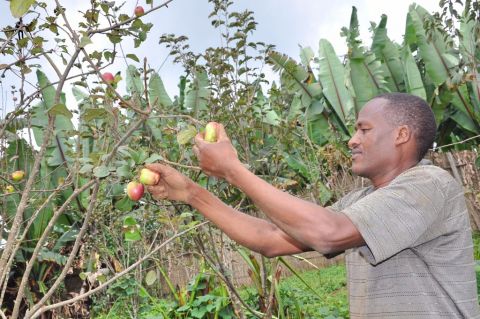 "Immediately upon my return I started an apple nursery and began to plant and sell my seedlings at a reasonable price. This helped me earn a stable income. Buyers know you can make money from apples." Roba explains, remembering his first tentative steps out of poverty.
World Vision also benefited from Roba's experience. Roba's curious nature and ability to learn and disseminate innovative ideas back to his community helped people learn new agricultural production methods. Because of this, World Vision offered Roba a number of other training on modern agricultural practices such as compost application, potato seedling production, agricultural marketing, and savings.
"World Vision invested so much in me and I felt that I had to bear fruit in return. World Vision has favored me in many ways. My life was once in darkness and hopelessness and is now completely transformed. The contribution of World Vision to me, my children and my family is beyond explanation," Roba narrates.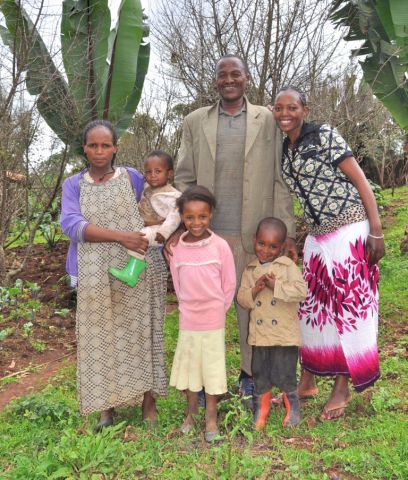 "Before World Vision came to Kochere, most of the community was dependent on only a few crops such as Enset /false banana (a local Ethiopian subsistence staple food) and coffee for survival and a means of earning an income. As a result, the community had to endure extreme food insecurity," says Tigist Gebre Mariam, World Vision Ethiopia Kochere Area Programme supervisor.
World Vision introduced potato farming and apple production in Kochere district to enhance food security, boost food diversify and improve agricultural production. In addition to this, World Vision increased the capacity of farmers in Kochere. Roba is just but one the beneficiaries among many.
Still, despite the efforts to assist farmers in Kochere, more than 20,000 people are in need of humanitarian food assistance. The El Nino weather phenomenon triggered a drought due to successive rain failures which have left 8.5 million Ethiopians in dire need for food assistance.
In the midst of the ongoing drought, Roba has been able to mitigate the effects for his family. Roba and his children are self-sufficient, food-wise, and are busy selling their surplus production to the market.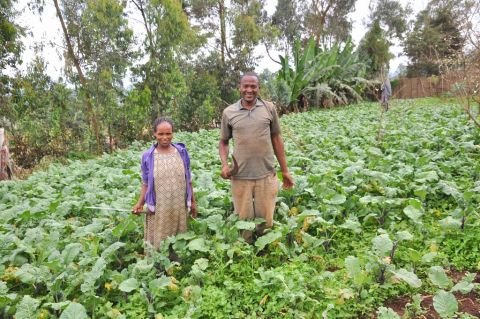 A visit to Roba's home and farmland reveals an area in abundance. Roba's planted 100 apple trees, potatoes, coffee, barley, maize, maintains beehives, and grows other vegetables. He also additionally planted bamboo, juniper, and eucalyptus trees to earn income from forestry.
"I am the most blessed person in my community. We have surplus food. I provide a well-balanced diet to my children and family. Drought doesn't worry me that much anymore," Roba says with humble confidence.
"This year I harvested 6,000 kgs of potatoes and earned 108,000 birr (4,538 USD) from the sale of various agricultural products. In addition, I saved 10,000 birr (420 USD) in the bank and bought 1.5 hectares of land, worth 20,000 birr (840 USD)," Roba explains.
Roba's assets have been steadily growing. He now has two oxen, two milking cows, 12 sheep, and a mule. What's more, his son Tadele, now 23-years old, has finished his education and is now a member of the national police force.
Roba now intends to buy a truck, construct a house in town, and educate his children in better schools ensuring their admittance to the university.
Farmers like Roba and others like him who have received technical and material support from World Vision have become self-sufficient and are resilient to natural shocks which continue to threaten the lives of thousands in Kochere.
Written by: Kebede Gizachew