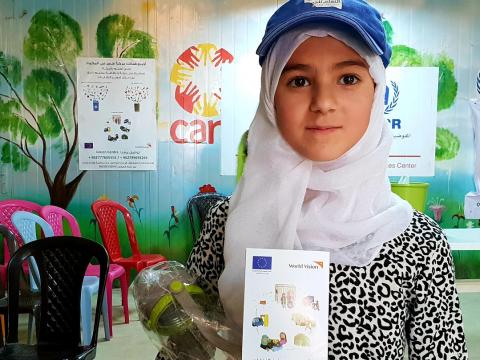 Dreams interrupted
Tuesday, June 19, 2018
By Dominique Monera-Tabora, World Vision
"I often dream of going back and finishing my university degree," Rawan wistfully said looking pensive. But going back to Daraa, Syria is not likely to happen soon as Rawan prepares to give birth to her second child in two weeks' time.
Like thousands of young women refugees from Syria, marriage provides protection during uncertain times. Rawan met her husband, Imad in Zaatari refugee camp. Both were in college when the war erupted.
"When the war started I was a student in the university and was tutoring Grade 1 to 4 children in my home" Rawan recalled. "Life was so difficult. Everything was so miserable". 'Miserable' barely captures the horrors that residents of Daraa experienced in 2011 after the southern city of Daraa was put under siege in attempts to end the pro-democracy protests.
Daraa City was where the Syrian uprising began in March 2011 after residents protested the arrests and torture of at least 15 children for painting anti-government graffiti on the walls of a school. Within days the demonstrations swept through other cities across Syria, with protests becoming an almost daily occurrence. "Daraa is Syria" became the battle cry.
Rawan's family of nine crossed the border to Jordan early in 2012 after the city was heavily bombed and health services were cut off. The family stayed in Zaatari camp until they moved to Azraq to get better work opportunity.
Rawan currently works as a community mobilisation volunteer for the solid waste management project informing people to separate recyclables from organic waste. The Sustainable Food Security for refugees through Environmentally Responsible Solid Waste Management Project, funded by the European Union and World Vision, is raising awareness and changing behavioursby engaging Syrian refugees in Azraq camp.
Like Rawan, the family of eleven-year-old Rana also came from Daraa. Rana remembers playing with cousins in the fields of Daraa and going to school. But the war had temporarily stopped her schooling until she reached Azraq. "I want to be a doctor, so I can help people who suffer," says Rana.
Children like Rana are engaged in the solid waste management project as they are tasked to throw the garbage within their refugee shelters. In the recent World Environment Day gathering in Azraq, Rana won a reusable water bottle after correctly identifying recyclable waste from organic waste in a game during the community gathering.
A shared dream among the Syrian youth is to continue their schooling and be able to help rebuild their homes after the war.