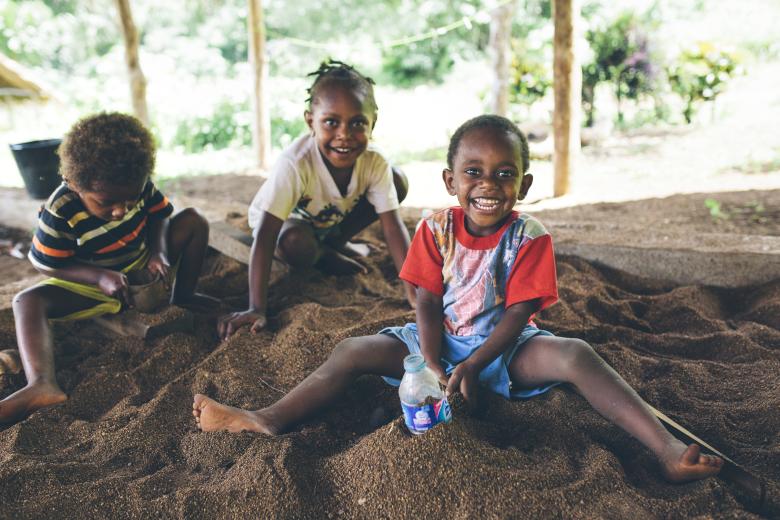 Early childhood education for life
Thursday, May 7, 2015
Grant project name: Pentecost Education Begins at Home - Phase Two
Funded by: The Australian Department of Foreign Affairs and Trade
Time frame: 1 October 2011 – 30 September 2015
Purpose and objectives: In Vanuatu's Penama province, young children have few options for preschool education. On Pentecost Island, many children aged three to six do not attend any form of preschool, and those who do are forced to walk long distances to community kindergartens.
Thanks to the Australian government's support, through its Department of Foreign Affairs and Trade, for World Vision's Pentecost Education Begins at Home project, children now have access to preschools in their communities.
The project works with communities to build local kindergartens, so young children can access early childhood education, while a partnership with the provincial government ensures a high quality of teaching.
The project also cooperates with the Vanuatu Society for Disabled People to guarantee the most vulnerable children attend school.
Through conversations with families, World Vision's team delivers household-based training to parents and other caregivers to promote early childhood education, especially for girls, and positive parenting skills.
MEET some children BENEFITTING FROM THIS PROJECT:
With the introduction of World Vision's Pentecost Education Begins at Home project, supported by the Australian government's Department of Foreign Affairs and Trade, children now have access to preschools in their communities, however.
Such is the remote nature of Pentecost, having a preschool in your community can mean an hour's walk for children, but that is still an improvement on the 90-minute trek before the project, which meant young Embok residents like Adelina simply missed out on education.
Adelina's new daily journey to preschool involves a long walk across overgrown, steep terrain and along often waterlogged paths with a parent and her classmates, but she doesn't mind. In fact, the four-year old enjoys going to school.
Of her kindergarten, she says: "I love coming here. I like playing with my friends in the sand … [and] I've learned to write my name and traditional songs and dances. I really like it when we make things with leaves."
Last year, the project established six preschools and six school management committees to ensure the project's sustainability, while also training seven teachers in early childhood education to provide quality lessons.
The project team also talked with parents about early childhood care and development, focusing on the important role they play in their children's education and reminding them study begins at home.
Ingrid, a coordinator at one of the preschool centres, describes how the project has meant children now have greater opportunities. "The kindergarten is a gift to the children in our communities," she said.
Throughout the project, Ingrid has participated in both toy making and early childhood care and development training, meaning she can develop related programmes for the 15 children at her centre.
By establishing the preschools, the project has created an avenue for children to easily progress to primary education. Along with parents in the community, Ingrid expresses her gratitude for the investment in young children, who now have a strong foundation for future success in school.
"[Now] I can help small children with their early learning," Ingrid said. "It's a dream come true for parents and our little children."