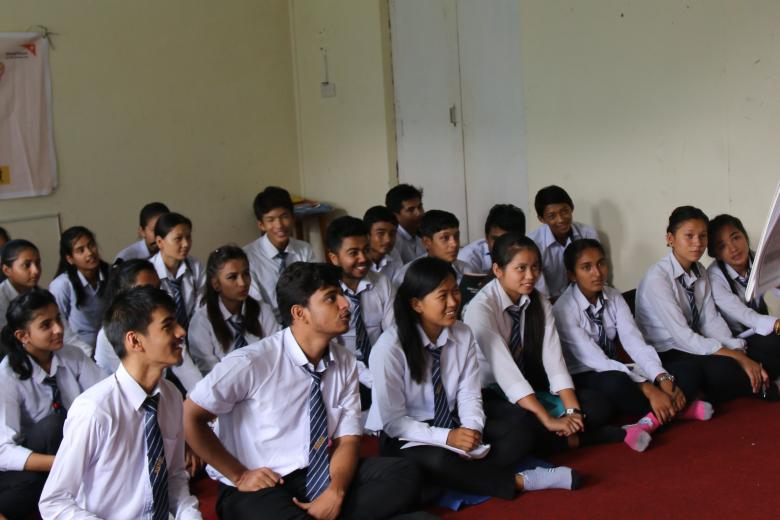 Empowering children with life skills
Friday, February 2, 2018
Fluent oratory skills, expressive gestures, grace.  Confidence is writ large on Sushmita's face.
Sushmita has a passion for journalism. She is just 17 but has already worked as a radio journalist for a children's programme.
Currently, she is studying in class eleven and lives with her father, mother, and two younger brothers in Lamjung District in the western region of Nepal. A few months ago, she attended a life skills training along with other students from her district. "Life skills training has changed my perspective about everything," she says.
"This training has increased my self-awareness and I have developed a positive attitude towards myself which was lacking before. Moreover, it has taught me about decision-making, critical thinking, stress management, and effective communication techniques."
Another highlight of the training is that it encourages children to sharpen their creative skills. "I was always interested in poetry but earlier, I felt too lazy to jot down anything. After this training I am very keen to pursue literature. Poetry is a skill I have and I will surely nurture it." she says,
"My confidence has also skyrocketed after the training. Now, I can express my ideas and thoughts more effectively and I do not hesitate to discuss serious issues with my parents and teachers."
In a constantly changing environment, having life skills is an essential part of being able to meet the challenges of everyday life. It enhances the well-being of children and promotes a positive outlook and healthy behaviour.  It enables the individual to translate knowledge, attitude, skills, and values into action. Furthermore, it improves the socialization process among learners such as relating to others in a friendly way.
"The most important life skill I learnt during the four-day training is the ability to empathise, which has helped me to build resolutions rather than resentments," says Sushmita.
To date World Vision's Child Protection Project has provided life skills training to 121 children from marginalised communities in Lamjung District.
World Vision is working with children to improve their lives.