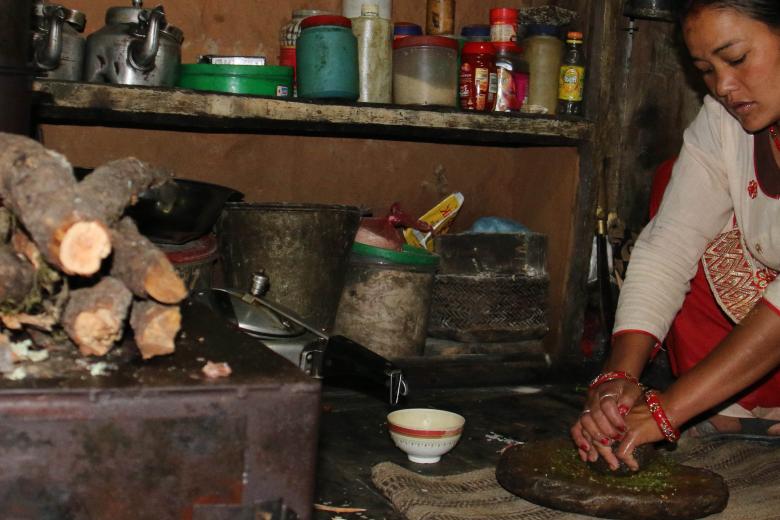 Facing the consequences of child marriage
Monday, September 4, 2017
"I could have had a successful career had I not made that wrong choice. It's too late and I can't rewind time," says 28-year-old Suchana* from Jumla.
Jumla is one of the least developed and most inaccessible districts of Nepal. In the remote Karnali region, apart from foreign-aid workers, the few visitors to Jumla are here for trekking. 
It is early morning and the weather is slightly nippy. Suchana is busy preparing  for her two children, who are about to head to school in their shiny blue uniform. Today, she is preparing rice and potato curry. She has also picked a plump green cucumber from her garden and she is currently slicing it into small pieces.
While her husband is working in the Nepal Army in another district she is solely responsible for managing the household chores and raising her children. "He was my brother's friend. I fell in love with him when I was 15 and I eloped at the age of 18. I was too young and naïve; I didn't think it through," she says. 
"I was in grade eleven at that time and after marriage I was so busy managing household chores and taking care of my in-laws that my education took a back seat. Moreover, I also had to help my brother-in-law with his studies," she recalls.
"Our society here pressurises women to give birth to a child immediately after marriage otherwise it is considered a bad omen. I gave birth to a baby girl in the second year of my marriage and that affected my education even more. Nonetheless, I passed grade twelve but it took me 2 extra years."
Suchana could not continue her studies after that. Although she dreamt of studying further and working in the health sector she could not follow that path. With the birth of her second child – a son – it seemed she would have to spend all her energy and time raising her two children. "It is difficult to raise two children on my own. My mother-in-law has passed away and my father-in-law lives in a different house with his other son. And I only get to meet my husband a few times a year during his holidays. This is the reality of my life now," she says.
"If I had studied further I could have been a nurse. Who knows? I still want to study and move ahead in life but I don't how to. Who will take care of my children and my house if I go to college? I wish I could find a way."
Suchana's health has also been affected by early pregnancy. From time to time she faces severe backache. "It started gradually after the pregnancy. I was not ready to have a baby; I was just 19," she laments.
Though the prevalence of child marriage has decreased around the world, it remains high in many countries. Nepal is one of the ten countries in the world with the highest rate of child marriage and after Bangladesh and India is the third highest in Asia. Over one third of girls in Nepal - 37% - marry before the age of 18, and 10% before the age of 15 (UNICEF's The State of the World's Children, 2016).
The government has taken some steps to reducing child marriage, making it illegal in 1963. However, the implementation and enforcement of protective policies need to be strengthened.
As Suchana's children finish their meal and head to school she goes back to her daily chores. Now, she is washing the dishes.  
* - Name has been changed for privacy