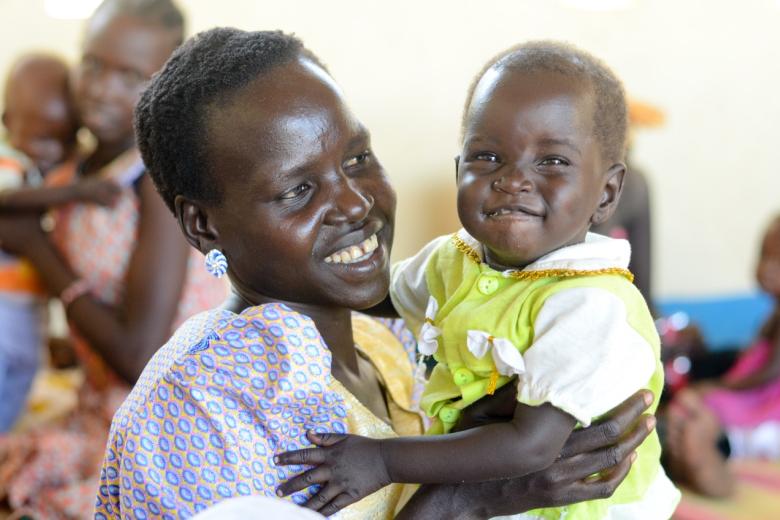 Five nutrition centres open to combat South Sudan's rising malnutrition rates
Tuesday, February 20, 2018
JUBA - As child malnutrition continues to climb in South Sudan, World Vision is opening five new nutrition centres in Juba today. 
The centres aim to provide up to 15,000 malnourished children, pregnant women and breastfeeding mothers with nutrition supplements and food packs, regular health check-ups and advice to caregivers.
"The malnutrition situation for children in South Sudan is alarming. Conflict, food insecurity and escalating food prices are preventing too many families from providing the necessary nutritious food for their children," said Dr. Mesfin Loha, World Vision's interim national director in South Sudan. "Children must be protected, we need to make sure they have food that nourishes them to have the chance for a bright future."
The nutrition centres will also empower and equip community volunteers to do house-to-house visits to measure children, identify potential cases of malnutrition and refer these cases for treatment.
"Catching children in the early stages of malnutrition is essential. Enlisting community volunteers ensures children are not put at a greater risk of disease and death," Loha adds. 
Stella is one of the mothers who has been regularly bringing her 13-month-old daughter Rhoda to a Juba nutrition centre after the girl was identified as severely malnourished. The food the girl receives – Plumpy Nut – a fortified peanut paste that's packed with added vitamins and minerals for malnourished children – has helped Rhoda gain weight and start the path to healthy growth.  
"What you're giving here is helping," Stella says.
In 2017, World Vision's nutrition programme treated more than 5,000 children in Juba. 
"We're expanding our nutrition programme because we know the need is great. We're witnessing families struggle and we know action is required," Loha concluded.
World Vision's nutrition programmes in Juba are supported by the UK's Disaster Emergency Committee, UNICEF and the World Food Programme. They are run in conjunction with the Ministry of Health.