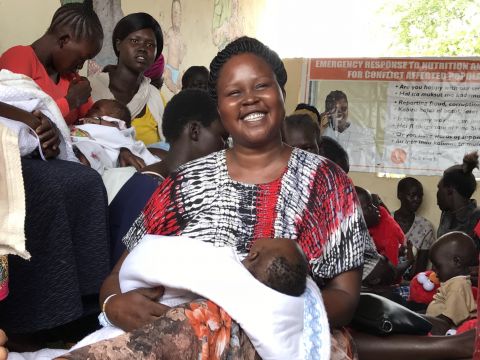 Improve health and nutrition for vulnerable children
Increase the number of children who are well-nourished
Increase the number of children who are protected from infection and disease
Decades of conflict have led to the debilitation and near collapse of the already insufficient health system in South Sudan
Systematic and intentional deprivation of services prior to independence lead to little if any infrastructure
Proper health care is not available: 56% of the population does not have access to health facilities
Maternal mortality rates (at 789 per 100,000 live births) are the highest in the world
We are improving the overall health and nutrition of children through the direct provision of health and nutrition services, improving the knowledge awareness on health, nutrition, hygiene, and safe water and by equipping and involving community and faith leaders in the process. As a result:
243 health facilities across the country were supported to provide essential services such as immunizations, maternal and child health services, antenatal and postnatal care and curative as well as nutrition services
2,208 community health workers were equipped to help manage and prevent malnutrition in their communities
Yes! Here are a just a few ways we know our programmes are working:
More than 100,000 children received vaccinations in 2016 and 2017 to help eradicate Polio.
As a result of education and better access to equipped health centres, more women are choosing to have their children in the presence of skilled birth attendants. In the Yambio country the number of women whose births were supported by skilled birth attendants more than doubled (from 6% in FY16 to 13% in FY17).
Although the number of children experiencing malnutrition continues to be unacceptably high, we are encouraged by working with leaders, mothers, mother support groups and community nutrition volunteers, 88% children who have been treated for malnutrition have not relapsed.
312,181 children under 5 were able to access curative health services through supported primary health centres
1,278 health workers received additional training to meet the needs of vulnerable women and children
2,208 community health workers are actively involved in managing and preventing malnutrition in their communities
More than 100,000 children received vaccinations and are now safe from the devastating effects of Polio