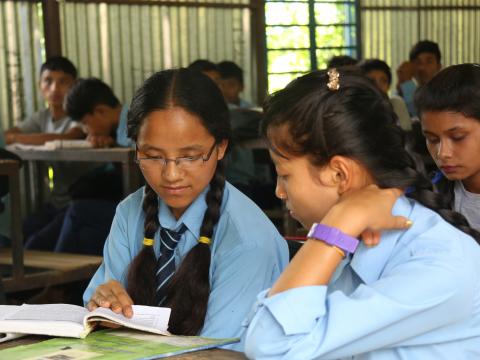 A girl determined to bring change in the community
Wednesday, September 21, 2016
Confident, self-disciplined, and inspiring, this was my first impression of 15-year-old Ganga. She is the chairman of a school child club.
My meeting with Ganga, a tenth grader, was arranged by a staff member of a Partner Non-Government Organisation at Kalika Devi School, Sindhupalchowk, where she studies. Excited at prospect of the meeting, I quickly left for her school on a sunny morning.
Arriving earlier than school starts, I waited patiently for her to come. While waiting I began photographing the newly-constructed school building.
After twenty minutes waiting, my eyes spotted a vibrant girl who had just entered the school gate. Dressed in a clean blue uniform with plaited hair, glasses and walking with a confident air, my intuition told me that she was the one I was waiting for.
"Are you Ganga?" I asked, approaching her.
"Yes," she replied with a smile.
"Are you from World Vision?" she asked.
"Yes."
"Can we talk later, after I conduct the assembly?"
"Sure," I said, nodding in agreement.
As she began to conduct the school's morning assembly, I continued watching her, startled at her confidence. After finishing the session, she came to me and I began talking to her in an empty Temporary Learning Center (TLC) room.
"I want to be a staff nurse and help the poor who cannot afford expensive medical care," Ganga replied to my question regarding her future aspirations, a reply that further impressed me.
She later shared that her interest came about after she witnessed her father succumbing to death, unable to bear the medical cost. "I don't want anyone to lose their life on account of poverty like my father," she said in a muted tone.
Excellent in studies, Ganga is loved equally by her friends and teachers. Due to her intellectual ability, confidence, hard-working and cordial nature, she was elected as the chairman of the school child club, a club supported by World Vision.
"They saw something in me. They felt that I was able to shoulder this responsibility. That's why I must have been elected chairman. But it's a big responsibility and I should meet the expectations of my friends who voted for me," she said.
Maintaining discipline among students, promoting cleanliness and hygiene at the school, encouraging participation in extra-curricular activities are some of the priorities for this child club within the school. The child club has also stepped up to work against child marriage and child labour.
Recalling the incident when the child club attempted to stop a child marriage in their village, Ganga said, "A 16-year-old girl was being married by her family. When we knew about it, we immediately agreed to work together to prevent it. Since we knew that marrying at this tender age can bring several implications later, we were firm to stop it."
In an attempt to stop this marriage, Ganga and her friends visited the girl's house and tried to convince the parents explaining the adverse effects of early marriage. When it didn't work, they also submitted a letter to the concerned authority in suggestion of the Village Child Protection Committee (VCPC). But all in vain. The marriage finally took place.
"We were disheartened. I think we were not taken seriously. Now, we will have to be more strategic. Talking about child marriage within our student's group, involving teachers and VCPC members can help a lot. We will focus on these things more."
Though the failure to stop that child marriage was discouraging, Ganga clearly understands that they should not be frustrated. She is hopeful that the child club will definitely succeed to stop or at least reduce the instances of child marriage in future which is prominent in Sindhupalchowk.
She was rather excited when she explained of the triumph on how her child club succeeded to bring a child in labour back to school.
"A friend in ninth standard was working in Kathmandu to support his poor family. After much effort from the child club we were able to convince him to continue his education. We then convinced his parents as well to make suitable environment at home for his studies. On our appeal, the school also granted him a scholarship. Currently, he is studying quite well."
This victory was a matter of pride for Ganga and other members of the child club who were involved in this initiation.
"There are many other cases like this. There are so many things to be done to stop child marriage, child labour and gender discrimination among children which prevails widely. We are determined to work for this cause."
Hearing Ganga talk about such important issues and her determination to eradicate them was quite striking to me. After my short interaction with Ganga, I returned back to my hotel fascinated to see the outcome of World Vision's Child Protection initiation to strengthen the child club as well as children in this rural village.