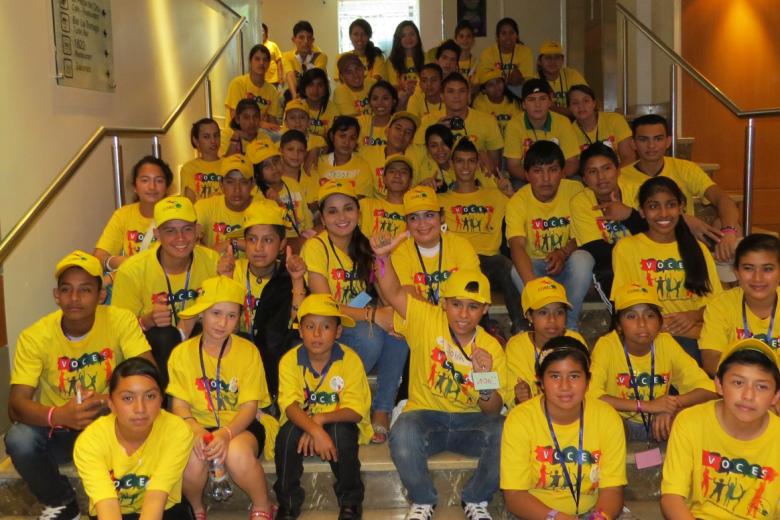 Guagua Kuna Pak Rimui Kuna – (Voices of Children in the Quechua language) Preparing to be heard on the issue of Disaster Risk Reduction.
Tuesday, May 27, 2014
Guayaquil, Ecuador - 56 girls, boys and young people from 15 countries in Latin America have gathered in the city of Guayaquil, Ecuador, for a meeting in which to share and present their concerns and experiences on the theme of Childhood, Adolescence, Youth and Disaster Reduction Risk.
This meeting takes place in the framework of the Fourth Session of the Regional Platform for Disaster Risk Reduction (DRR), which will run from May 27, where children, adolescents and youth, will share their projects and their experiences as leaders on a highly sensitive issue.
This meeting of boys and girls is organized by the Coalition for Resilience of Children and Youth in Latin America and the Caribbean - CORELAC and will be led by girls, boys, teens and youth from Brazil, Bolivia, Colombia, Costa Rica, Cuba, Ecuador, El Salvador, Guatemala, Honduras, Nicaragua, Panama, Peru and Dominican Republic. All of them belong to the movement "Voices of Children, Adolescents and Youth to for the Resilience in Latin America and the Caribbean", which consists of more than 18,000 children from 15 countries in the region who participated between 2012 and 2014 of the disaster risk reduction (DRR) projects implemented by UNICEF, Plan International, RET-Protecting through Education, Save the Children and World Vision.
On behalf of World Vision, 16 children, adolescents and youth, representatives from Dominican Republic, Nicaragua, Bolivia and Ecuador will participate. The depiction of Miguelina stands out; a young lady from Dominican Republic, who has a disability and will present the approach to this issue in the DRR.
"I would like to gain more knowledge and share my experiences, and hear from other young people to learn and take these to my country, and to be a spokesperson to the youth and teach other disabled people whom I train in my country." Expressed Miguelina, youth representative for World Vision Dominican Republic.
The short-term purpose of the Movement is to generate a proposal from the Latin American and Caribbean region, facing the Hyogo Framework for Action Post-2015 to take place at the World Conference on Disaster Risk Reduction (DRR) to be held in Sendai, Japan in March 2015.
The thematic session will be held in the Great Isabela Hall, Hilton Colon Hotel, May 27 from 13:00 hours until 15:30 hours and will be broadcast live on video on the Internet through the website http://www.eird.org/pr14/ where now you can see the full schedule and all details concerning the RP14.