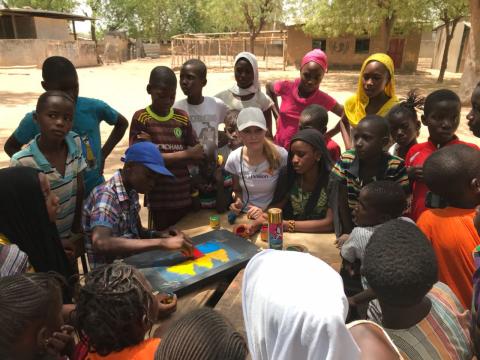 Innovation in Child Sponsorship: a new and unique approach from World Vision Germany's Youth Ambassador Programme
Friday, April 27, 2018
There is a 12 year old boy in a blue track suit. A hundred people staring at this young boy and two youth ambassadors from Germany. Two video cameras filming the scene. It is 43 degrees Celsius and the youth ambassadors, Laura and Marcella, came a long way to finally meet their sponsored child Abdoul.
"He was probably as nervous as we were when we looked in each other's eyes. The whole village joined and we shared that emotional moment with all of them. After greeting Abdoul in German we suddenly realised that he did not understand. Nor did our translater Famara. He speaks seven languages fluent, but German was surprisingly not one of them. We all really had been so nervous.
A most important meeting and introduction
When handing Abdoul a football, that we thought may be a wonderful present for a twelve year old boy, we shyly smiled at him. We asked, if Abdoul would like to show us around and he kindly did. It was very touching to experience that the first person he wanted us to meet was his grandmother. She really seems to be a very important person in his life. Later we got to know that it is Abdoul's grandmother who tells him to always go to school, do his homework to have the chance to become the person he can be. What a lovely moment to share with us. That strong relationship between Abdoul and his caring grandmother.
Laura playing with a child in Netteboulou
On our way back to the hotel, we reflected on our adventurous journey to meet our sponsored child who warmly invited us to meet his family and the community where he grows up. Thanks to Joseph and his team we had the chance to meet Abdoul twice again at his school. Talking to his teachers, discussing urgent issues with the kids club, laughing and dancing with all his school mates, had been most enjoyable. We felt like becoming a real part of Abdoul's life.
A first for Child Sponsorship in World Vision Germany
Back home we have a lot of pictures and emotions to share with the World Vision Youth Council. As this year's Youth Ambassadors we decided to sponsor a child in Senegal. And the entire Youth Council supports that sponsorship. In fact, there are nine very committed young people supporting Abdoul. It is that idea of group sponsorship that we want to facilitate among young people in German schools and universities. We have seen the significant impact of sponsorship for a child, his family and community. Thank you, Abdoul. Djarama, Abdoul. Djarama, World Vision Senegal! Danke."
Written by Laura and Marcella World Vision Germany's Youth Ambassador