Some hilly roads can be unkind to you; Ghyachowk is one of them. A bumpy two hour ride and three hour walk later, I make it to the hilltop, covered in sweat and panting heavily. Looking around me, there is a great view of Gorkha district, making it worth all the hard work. But, despite its beauty, its unexplored greenery, and the numerous flora and fauna along the path, Ghyachowk lacks because of one reason-inaccessibility.
Who knows this better than 14-year-old Manmaya, who has been reporting the issues faced by this remote place to the community radios of the district for the past two months. She comes from a family of nine who are considered to belong to so-called lower-caste. She knows that this is a serious issue for her community.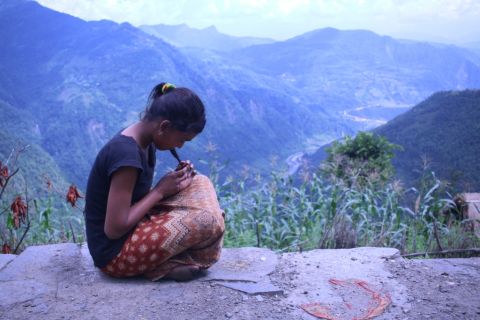 So-called lower caste people, referred to as Dalits, still face everyday inequalities in her village. "I remember being left out in social activities and the parents of my peers' treating me differently. Sometimes, I used to wonder 'Why did I have to be a Dalit?' I now understand that these differences are man-made and everyone needs to realise this," she says.
Another practice too prevalent in Manmaya's community is child marriage. Although the legal age of marriage in Nepal for both sexes is 20, 37% of Nepali girls still marry before the age of 18 according to The State of the World's Children report by UNICEF, a practice prevalent in towns and rural communities. Given that Manmaya's village is so remote, it is no wonder that she frequently sees instances of child marriage. She did try to stop one such marriage a month ago, but her classmate turned a deaf ear and eloped. Manmaya believes this can be changed if there's more education as to the harm child marriage does.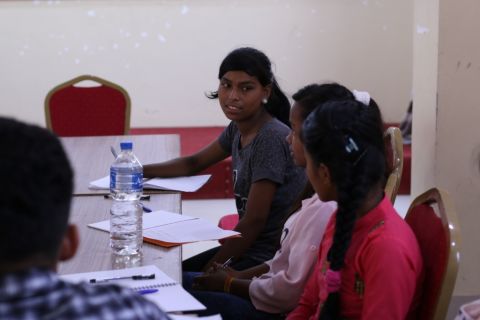 Radio can be a powerful medium for that purpose. According to BBC Media Action 90% of the people in Nepal have access to radios and trust the information they hear, making it the most trusted medium of communication in the country. With 700 community/commercial licensed radio stations, programmes are widely broadcasted, from remote villages to cities.
Leveraging this wide reach and in partnership with Association of Community Radio Broadcasters, immediately after the 2015 earthquakes, World Vision began the community journalism project. It looked at strengthening the ability of radio journalists to produce advocacy messages with a community-voice inclusive approach using the community feedback mechanism led by community journalists. After the successful completion of two phases of the project in five earthquake-affected districts, phases which saw wide dissemination of advocacy messages, the project has been resumed with a third phase early this year. So far, 30 community journalists have been mobilised in three districts: Gorkha, Nuwakot, and Sindhupalchowk. Regular fortnightly episodes have been broadcasted in the districts and five episodes have been aired through Community Information Network at the national level.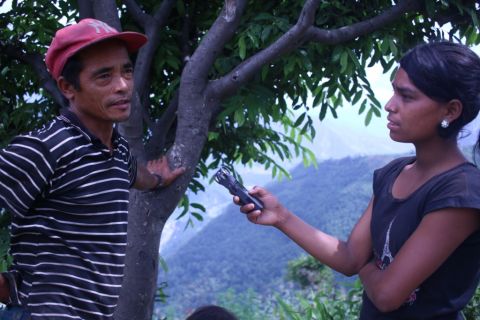 Manmaya is one of the 30 community journalists who has been initiating conversations about social issues and social needs after the earthquakes, calling upon leaders and representatives. The discussions are recorded and sent to the district community radios who include them in their programmes. Aired fortnightly, under the name "Jivan Rakshya Baal Surakshya", the programme is reaching out to all listeners in the district.
As I watch her hold a pen between her fingers to write, it is hard not to notice that this girl is unique. Her determination to triumph over social disparities and dedicate herself to social work is inspiring to see.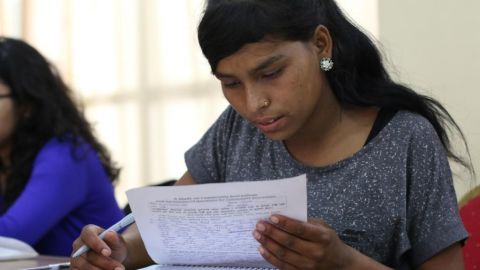 "Come back again, didi, I will do my work here," she says as I bid her goodbye.
---
Featured image: