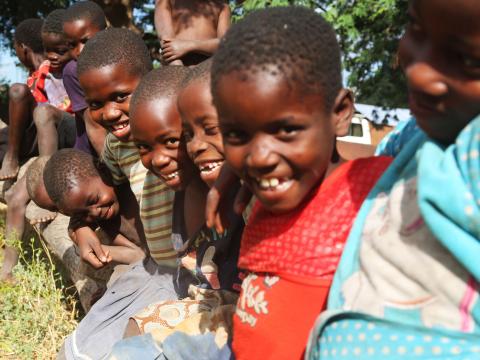 Malawi Launches Nutrition Policy
Tuesday, June 26, 2018
Malawi First Lady Madam Gertrude Mutharika launched the 2018 – 2022 National Multi-Sectoral Nutrition Policy (NMNP) and Strategic Plan on 20th June 2018 in Lilongwe.
The First Lady commended the launch of the policy, describing it as a critical ingredient for Malawi's national development, which she said needs coordinated and multi-sectoral approaches.
"I am pleased that the policy has taken into account outstanding issues on nutrition, including management of malnutrition in emergencies," said Madam Mutharika.
World Vision Malawi Maternal Newborn and Child Health Technical Manager, Theresa Banda pledged the organization's Support towards evidence-based and high-impact nutrition-specific as well as nutrition-sensitive actions at large scale, through approaches that will ensure no one is left behind, especially the most vulnerable, including children, women and adolescents.
"WVM is committed to continue contributing efforts towards reducing malnutrition in Malawi. We will continue working together for effective support and align our actions in-line with the National Multi-Sectoral Nutrition Policy and respective strategies in collaboration with the Government of Malawi, Development Partners, NGOs and the private sector," stated Theresa.
Theresa further said that the new policy has drawn a lot of insights from World Vision's rich work in various programmes across the country, citing the MICAH project.
Implemented by WV's field partners in Ethiopia, Ghana, Senegal, Tanzania, and Malawi, the Micronutrient and Health (MICAH) project reached more than 2.5 million direct beneficiaries (including women and children under 5) between 1996 and 2006.
MICAH's activities included increasing intake and bioavailability of micronutrients and reducing the prevalence of diseases that affect micronutrient status.
"We presented such evidence from our work and how we saw significant change in children and mothers as a basis of conversations in the creation of that policy and we will work hard to see to it that our programmes are doing what they must in addressing the problems", said Theresa.
She then highlighted that World Vision Malawi will keep prioritizing nutrition and will strengthen integration of its interventions for impact on nutrition.
Malawi has reduced stunting from 55 percent in 1995 to 37 percent in 2016, wasting from 6 percent in 2014 to 1.3 percent in 2018, and achieved significant reduction in Vitamin A deficiency from 59 percent in 2001 to 3.6 percent in 2016.