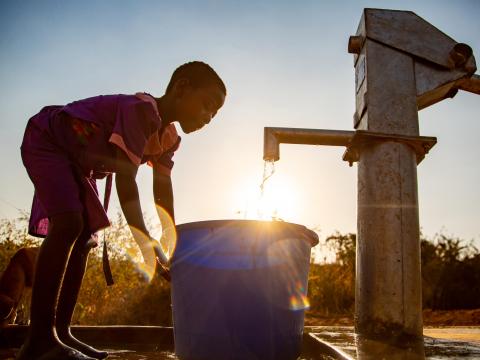 Water, Sanitation and Hygiene
What is the problem?
Although 87% of the people of Malawi have access to clean and potable water, a number of challenges –especially associated with poor practices in transporting and water storage– still remain. These challenges often result in diarrhoea among children under the age of five.
What is World Vision doing to address these issues?
World Vision is implementing its Water, Sanitation and Hygiene (WASH) Technical Programme to complement the government of Malawi's efforts to ensure communities have access to improved water resources, safe waste disposal, and good hygiene practices. We are implementing our WASH Technical Programme focuses on the use of Community-Led Total Sanitation (CLTS) and School-Led Total Sanitation (SLTS) approaches.
In order to improve access to clean water and improved sanitation, we are implementing a close to US$3.7 million integrated WASH project, which will drill 98 new boreholes and rehabilitate 20 non-functional boreholes. World Vision is also expected to construct 11 mechanised water systems.
Additionally, our teams are working to educate 22,500 people about proper sanitation and hygiene as well as the need to end open defecation. Our teams, in partnership with Water for People, will be implementing a WASH project in Chiradzulu district worth US$10 million.
What's the impact?
In 2020 alone, 95,264 people were reached with clean water through the construction/installation and commissioning of 143 taps and 119 new boreholes, along with the rehabilitation of 11 taps and 77 boreholes. Between 2011 and 2020, World Vision has drilled over 2,000 new boreholes in Malawi.

288,152 people gained access to sanitary facilities, with the construction of toilets and other sanitary facilities

188,452 children were reached with WASH interventions, including clean water. Between 2011 and 2020, World Vision has reached out to more than 2 million people with sanitation and hygiene education.
Partnerships
A bulk of these accomplishment have been made, thanks our ongoing partnership with Charity: Water as well as private donors and foundations. 
Related Resources: